We hold shoe polishing service by "Mason & Smith" for a limited time in BRITISH MADE Ginza store
BRITISH MADE / Drake' s
Events
We make first among Singapore and it is for a limited time in BRITISH MADE Ginza shop and holds shoe polishing service by only shoe polishing, shoes repair specialty store "Mason & Smith"
Care for leather shoes which are indispensable to go together for a long time. We invite Mr. Chung Chi Shun acting as Singaporean first shoe polishing, director of store specializing in shoes repair "Mason & Smith" in BRITISH MADE Ginza store and carry out shoe polishing service only in period from July to November in 2017. From simple care to mirror surface polishing brightening leather shoes more, we polish leather shoes having.
You have you bring calf-leather shoes, or you come to wear, and please come to the store.
Period: Every Sunday of from July, 2017 to November
Reception hours: From 11:00 to 20:00
Service contents:
Shoo care service: Free (around ten minutes)
Mirror surface polishing: 1,080 yen (tax-included) (20-30 minutes degree)
*About rush hours, we may assume handing over later. Thank you for your understanding.
*Caretaker is available for both services together. It becomes handing over approximately one week later.
*Plan may be changed. Thank you for your understanding beforehand.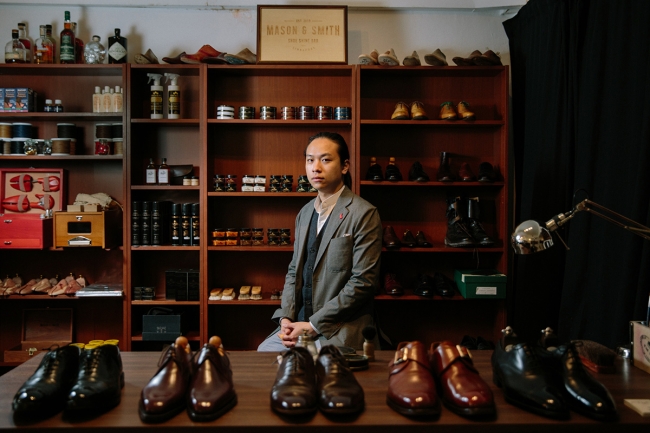 "Mason & Smith"
"Mason&Smith" established in 2013 by passion that repair performs of vintage leather shoes is Singapore's first shoe polishing and shoes repair specialty store. While craftsman alone from beginning to end including repair of leather shoes and re-KOLOR, repair pays scrupulous attention against a backdrop of traditional technique, we offer coherent service. We draw charm that leather shoes have to the maximum. In addition, you add to sale of care item of high-quality leather shoes at store and can use lounge space on the pretence of "Shoe Shine Bar".
https://www.masonandsmith.com/
BRITISH MADE / Drake' s
Floor: 5F
Period: Every Sunday of from July, 2017 to November 26
TEL: 03-6263-9955
2017.07.18 improves