With the power of space that is unlike anything ever existed, make this a new starting point for Ginza
An Unprecedented Space That Marks a New Starting Point for Ginza
INTERIOR
Gwenael Nicolas
Three points to think about commercial facilities
We think that project of commercial facilities like this time includes three points. One having to make element which is Aiko Nic in space. For example, as for the present times, photogenic dakedenaku, mediajienikku are important, too. If place where it is revealed that it is saying "it is GINZA SIX here" at first sight when people who visited facility take photograph is necessary and says in town of Paris, it is thing such as Eiffel tower. We lay atrium of the second-floor big colonnade to icon in GINZA SIX.
The second is that product simulates various storyboards, and design movement of person in space. How many minutes do you hang from a certain place to a certain place? In that case, another one engine is necessary for elevator. As we want to come across light in this neighborhood, shall we establish colonnade?…. Energy of space circulating with nature, and being space without stress for human feelings and physical sense. It is part needing collaboration with architect here.
Make lenience and severity called the last space where the third is dynamic and space that can be relaxed. Speed doing shopping in commercial facilities varies among people. We do sofa which we designed in original as space to add to breath relievedly in proportion such as cocoon in GINZA SIX and put screen of tree in the rear and create space that is inti mate.
On the other hand, we imaged small alleys left on the back of Ginza so that floor of magnificent scale did not become monotonous and designed passage where Shops lined up zigzag. Corner is born in all shops by the zigzag and comes to be able to taste elation to meet each one shop while right walking just what of alley by not being able to look around one just what linearly like normal commercial facilities.
The Three Essential Elements of a Shopping Mall
When it comes to designing a shopping mall like GINZA SIX, I believe there are three essential elements. One is the need for an iconic element within the space. Namely, in this day and age, it is important to be not only photogenic, but media-genic as well. Much like when people visit Paris they take the obligatory Eiffel Tower photo, you need something instantly recognizable as GINZA SIX that guests will naturally be inclined to snap a picture of. At GINZA SIX, we've positioned the large four-story atrium on the second level as our central picture-worthy attraction.
Second is to design the flow of people through the space using storyboards to simulate various scenarios. How many minutes does it take to get from point A to point B? Wouldn't it be easier if there were another elevator there? I'm thinking people will want to encounter some sunlight right around here-how about we make this an atrium?...It's absolutely key that the energy of the space flows naturally, and that no physical or emotional stress is placed on the guests. This part involves working together with the architect.
The third element is to provide variation: dynamic shopping experiences as well as areas of calm to sit down and relax. It's important to remember that everybody browses and shops at a different pace. For GINZA SIX, we've created an intimate premium lounge where guests can catch their breath, complete with custom-designed sofas that are so comfortable it's as if you were being wrapped in a cocoon, and a backdrop of wooden byobu [decorative multi-panel folding screens that serve as room partitions].
Also, in order to impart a sense of wonder on guests as they walk through the spectacular retail levels, we've set up the walkways in a zigzag orientation, evoking Ginza's narrow side streets and back alleys that remain to this day. The zigzags give each store a corner that faces out into the walkway-which means that unlike your standard inline shopping mall where you have a straight line of sight from one end to the other, guests naturally come face to face with each store as they walk around, and this creates a feeling of excitement about what could be around the next corner.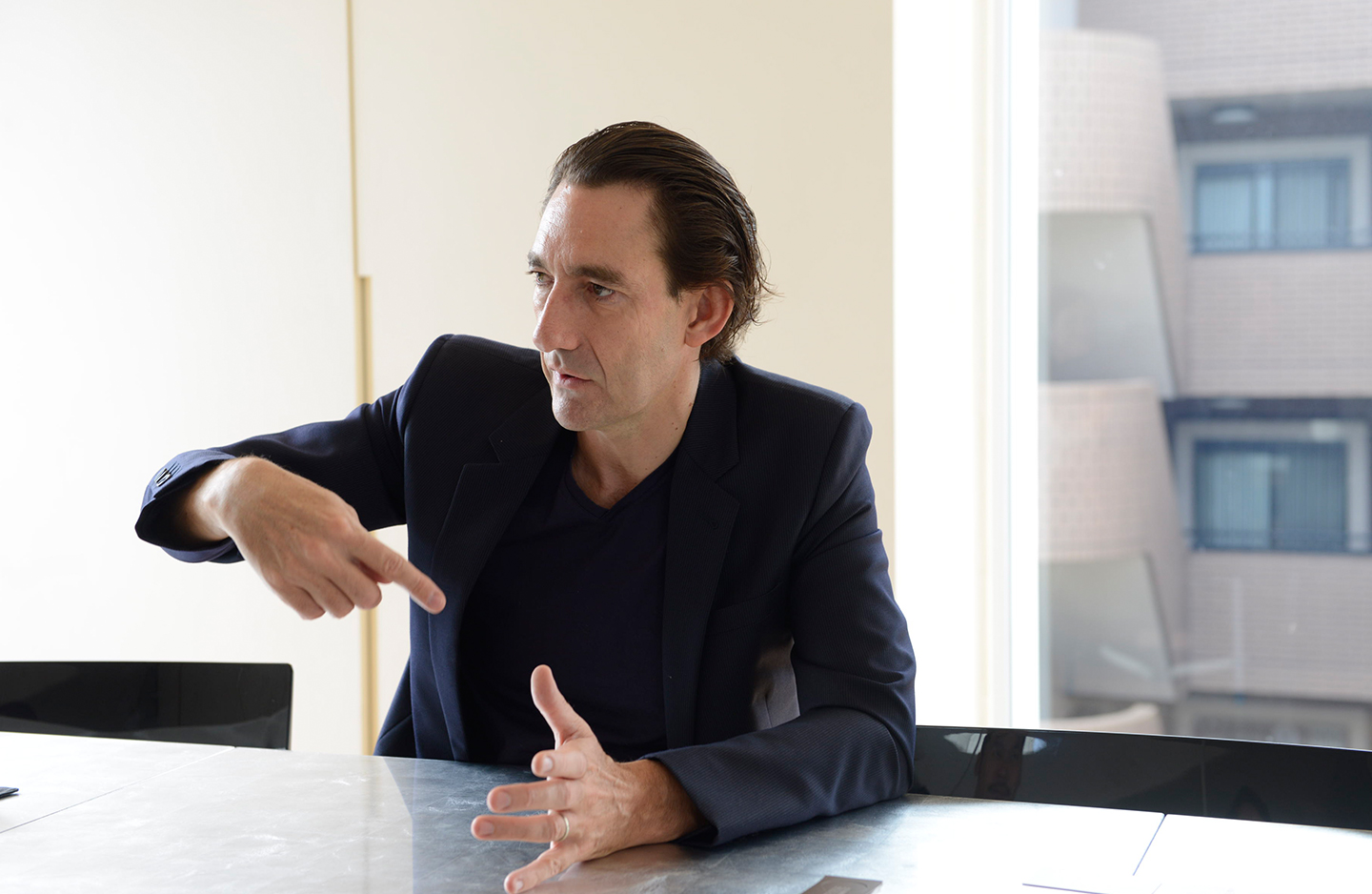 Primarily should it be space for whom?
We think that GINZA SIX becomes international commercial facilities to invite people into from all over the world. But we wanted to put Japanese essence in the interior. It was important to be conscious of forthcoming people from the outside, but thought that at first you must not be from one and there that wanted to make space that we and own family who lived in Japan could be pleased with.
For example, invention to let it is Japanese architecture and is shoji and oriental lamp, and light that we did softly spread out is done, but we order Japanese paper of 3D on ceiling of atrium of colonnade in GINZA SIX and penetrate light of nature falling from top light kindly, and the light turns around in the whole. We garnished banister with plaids reflecting the image of bamboo using louver.
We were particular how you showed Crafts Manship who tightened space. Wall of some elevator halls finishes the surface of aluminum with lacquer with tex Shah as if using material handmade as possible. We used Japanese paper by craftsman for wall of passage where Shops formed a line every point. It is point of design knowing project of all of me, and, not only GINZA SIX, it may be said how you show space in layer and quality of such a material even if after all Japanese design consists of layer and quality. But we mind Balance because GINZA SIX of magnificent scale does not give an impression such as big factory this time.
Though it is not talked in one point, and "New Luxury" which GINZA SIX publishes may just feel, "this is great" through the whole. There being building as well as interior, and there being graphic, and there being art, and there being culture such as noh theater, and nature being felt, and there being hospitality. Conversely we think that, "it is great both" is if possibly it makes a little difference, and overall Balance is good even if it is budget hotel even if it is high-quality inn.
Who Should the Space Be For?
I believe that GINZA SIX will become an international shopping mall that will attract guests from around the world. But in spite of that-or maybe even because of that-I wanted to imbue the interior design with the essence of Japan. While it is important to keep in mind that many of our prospective patrons will be from outside of Japan, my first priority was to design a space that our team of designers, our families, and those of us who live here in Japan would enjoy coming to. It was critical not to lose sight of that.
For example, in Japanese architecture, you use fixtures like shoji [sliding screens made of translucent paper over a wooden frame] and lanterns to diffuse light throughout a space. At GINZA SIX, I had 3D washi [a Japanese style of paper commonly made using fibers from the bark of mulberry trees, paperbush, and Gampi trees] incorporated into the ceiling of the atrium in order to diffuse the natural light coming through the skylight and bathe the retail levels in gentle light. And for the staircases we've installed louver railings with latticework designed to resemble bamboo.
I was also very particular about how attention to detail and touches of craftsmanship are used to bring the space together. Wherever possible, I integrated handmade and handcrafted elements. A number of the elevator hallways, for example, have walls covered in aluminum with a lacquer finish. And along the walls of the main walkways, you'll come across creative use of washi made by an expert papermaker. Using layers of design and the unique qualities of individual materials to bring a space to life-this has always been a central characteristic of my work, and GINZA SIX is no exception. And you can say that the use of layers and qualities are the foundation of Japanese design as well. So with a space as grand as GINZA SIX, it was important to achieve a balance between the two, so that it didn't end up feeling like some large industrial factory.
GINZA SIX's vision of "New Luxury" is not something that draws attention to itself, not something you can pinpoint; rather, it's an aesthetic that permeates the entire undertaking from top to bottom. It applies not only to the interior design, but the architecture, graphic design, and artwork on display, as well as the Noh theater and other cultural attractions, greenery, and, of course, the service and hospitality. To put it another way, New Luxury is not about what or how much you do with a space, but whether or not what you do is right for the space. In that sense, whether you were to choose to spend the night at a high-end ryokan [traditional Japanese inn] or a business hotel, one experience is not necessarily more "luxurious" than the other, because it's a question of overall balance and the thought put into it. Again, not what or how much you can do for your guests, but whether or not what you do is right for your guests.
The last layer necessary for commercial facilities
I am personal, and Ginza feels that alley is unexpectedly interesting. There are a lot of delicious restaurants, and shop of art & craft, shops of business conditions various in small building gather, and dark culture that we cannot notice remains only by wave of inbound demand walking flocking main street. It is international, but on the other hand Japanese essence is strong town. Shops of 240 entered GINZA SIX, but we wanted to right provide "various shops a lot of fun that there was" such as alley of Ginza and designed.
By the way, the world's oldest department store called "Bon Marche" is in Paris. We love me, too and should go to Paris and go for shopping, but, in human scale, design of retail is good at selection well, and characters called "product for rich people of the left bank" become clear as there is above all in upper-class residential area. As a result, it is always full of neighboring residents and therefore is circulation that tourist does.
In other words, it is "person" and thinks the last layer necessary for commercial facilities not to have to forget to be the quality. We take layer coming to to eat, and, people with various places and the workplace to spend in the outskirts without rubbing in GINZA SIX, message and logic loved from Japan, there from Tokyo by overseas person may be necessary for Ginza next.
When we go to Ginza, where does everybody arrest around? Possibly it may be intersection of 4, Ginza now. But I want to make the situation to "meet first of all in GINZA SIX".
GINZA SIX with interior that there is not in conventional commercial facilities is loved by everybody and prays new start point of Ginza for it being.
The Layer That Completes a Shopping Mall
Personally, I find Ginza's side streets and back alleys to be among its most intriguing features. They're lined with great places to eat, arts-and-crafts stores, and small buildings occupied by seemingly every type of business, and are where you'll find a deep-rooted culture that you would never encounter if you kept only to the main tourist thoroughfares. These streets are cosmopolitan, but at the same time they are infused with the essence of Japan. GINZA SIX will be home to 240 stores, but I designed the interiors to bring out that same Ginza side street feel of wandering into a delightful hodgepodge of establishments.
Incidentally, did you know that the world's oldest department store is Le Bon Marchéin Paris? I'm such a big fan that I make several shopping trips each time I visit Paris. They're masters of retail design-the place is built to human scale, and their product selections are excellent-but most of all its location in an upscale residential area means that it caters to a clear demographic: the affluent class of the Left Bank. As a result, the place is always bustling with local residents, which in turn attracts tourists, and one feeds into the other.
In other words, the final layer that is absolutely necessary for a shopping mall is people-and not just anybody, but people of a particular poise and quality. With GINZA SIX, first and foremost we wanted to create a destination that captures the hearts of the people who live and work in the area. Then from there, we will expand that circle to the people that come to Ginza to have lunch or dinner, to all of Tokyo and then Japan, and last but not least, abroad. You need a message that is not one-size-fits-all, but adaptable and universal. It's a gradual process that has to be thought out and executed carefully.
It is Many point to the Ginza 4-chome intersection When you visit Ginza, where do you think of as the center. My goal is that in the not too distant future people will be saying to each other "Let's meet up at GINZA SIX."
GINZA SIX is a shopping mall with an interior the likes of which has never been seen before. I hope that it captures your hearts and imaginations, and becomes a new starting point for Ginza.
Designer

Gwenael Nicolas

Born 1966 in France, We learn design in Paris, London and establish design studio "curiosity" in Tokyo in 1998. In late years we deal a lot with store of luxury brand in world wide.

Designer

Gwenael Nicolas

Born in France in 1966, Gwenael Nicolas studied design in Paris and London, and established design studio CURIOSITY in Tokyo in 1998. He is known for designing the interiors of many luxury brand stores in Japan and around the world.
(September, 2016 interview)
Interview and Text by Yuka Okada / Photographs by Satoko Imazu