Maximizing the synergy between works of modern art and commercial space
Commercial Space Meets Art in a Luxury Shopping Experience Unlike Any Other
ART
Fumio Nanjo
Public art which unfolds in GINZA SIX
We think Ginza, after all, to be Japanese face particularly commercial face. It being able to do Japanese new face that commercial facilities called GINZA SIX open there. Besides, posture "that the best creators of this country are concerned, and made GINZA SIX" if Yoshio Taniguchi designs building is necessary.
At that time, we thought whether art to propose did not let, at first, new Japan with creative image feel rather than traditional Japan represented in Nara and Kyoto. In GINZA SIX, both building and interior design are conscious of what's called Japan, but are taste that is just contemporary. On the other hand, a large number of art galleries for rent increase including place where Ginza deals with contemporary art from the 1960s, and gallery can be also known as gathering town now.
When we thought so, main art to unfold in central colonnade of GINZA SIX thought that work of that it was would deserve to be Japanese faces in the world contemporary art scene and asked Yayoi Kusama. It is this expectation whether there is not to thing letting you feel quality of Japan while having you make new item, and giving freshness. By the way, this; blow, and is irregular, and is going to replace art of part.
Design was congenial to commerce, but commerce and art did not have chance of collaboration so. Also, it is not accepted very much when art is too much sharp. But there is not meaning to do art if not sharp to some extent. We see that in a part of the design when it becomes passable work. We think that we have you pay attention to such an art and Balance and synergism of commercial space in GINZA SIX.
By the way, it is motto of Mori Art Museum to "thing which is more familiar to art & life - - present age by art", but thinks that it may be ideal that art is spread out to me in life widely. Wealthy people notamedakenomonodehanaku, general people can purchase art casually, and art is image to include that in everyday life. Wonderful. It may be said that that is rich life.
Art is in commercial facilities like this GINZA SIX and thinks that it is ideal besides that art contributes to activity of the facility in this sense. Furthermore, we think that it is fantastic when we can direct message characteristics only by art expressing character of the facility figuratively.
Public Art at the Heart of GINZA SIX
It is my opinion that Ginza is the face of Japan-more specifically, the glitzy face of commerce and retail shopping culture. As such, the opening of a shopping mall like GINZA SIX is the unveiling of a new face for Japan to present to the world. All the more when you have someone of Yoshio Taniguchi's caliber designing your building. You start to realize the gravity of the undertaking: GINZA SIX is truly the result of the greatest creative voices in Japan coming together.
When it came to deciding on a direction for the art that would take center stage at this new landmark, I felt we should go for something that spoke to the creativity associated with modern-day Japan rather than the traditional Japanese aesthetic embodied by places like Nara and Kyoto. Of course, "Japan" was a conscious theme for GINZA SIX both in terms of the architecture and the interior design, but we've gone for a wholly contemporary look and feel. At the same time, we were also very aware that Ginza has become an art gallery hub of sorts, with the number of contemporary art dealers and rental gallery spaces steadily increasing since the 1,960s.
All of this meant that the centerpiece that was to grace GINZA SIX's central atrium should be designed by someone who was the face of Japan in the international contemporary art scene-which is why I approached Yayoi Kusama for the job. By bringing her talents on board, I was confident that the result would be utterly fresh and inspiring while simultaneously retaining a uniquely Japanese essence. Incidentally, this atrium art piece is not intended to be permanent, and new centerpieces will be unveiled at irregular intervals.
The words "commercial" and "design" have gone well together; but the relationship between commercialism and art has always been much more contentious. The problem is, the more outrageous a work of art is, the less people get it. On the other hand, what is the point of art that isn't challenging on any level? The more you play it safe, the more obvious it becomes as a product of design. For GINZA SIX, I think we've succeeded in finding that great balance between art and a retail shopping space, where both feed into one another in a beautiful way. I'm excited for people to come and see for themselves.
Incidentally, the Mori Art Museum's motto is "Art + Life-Making contemporary art more accessible," and likewise I believe that art should be ubiquitous in our lives. Art should not just be for the wealthy. It should be readily accessible and affordable to everybody-a regular presence in all of our lives. Just imagine it. After all, isn't that what we mean when we talk about an "enriched society"?
In that regard, GINZA SIX is a prime example of how I believe a shopping mall should be: art at its core, serving as both the heart and the lifeblood that illuminates its environment. And if that art can encapsulate the personality of the facility, if it has a message to convey as only art can, it will take on a life of its own wonderfully.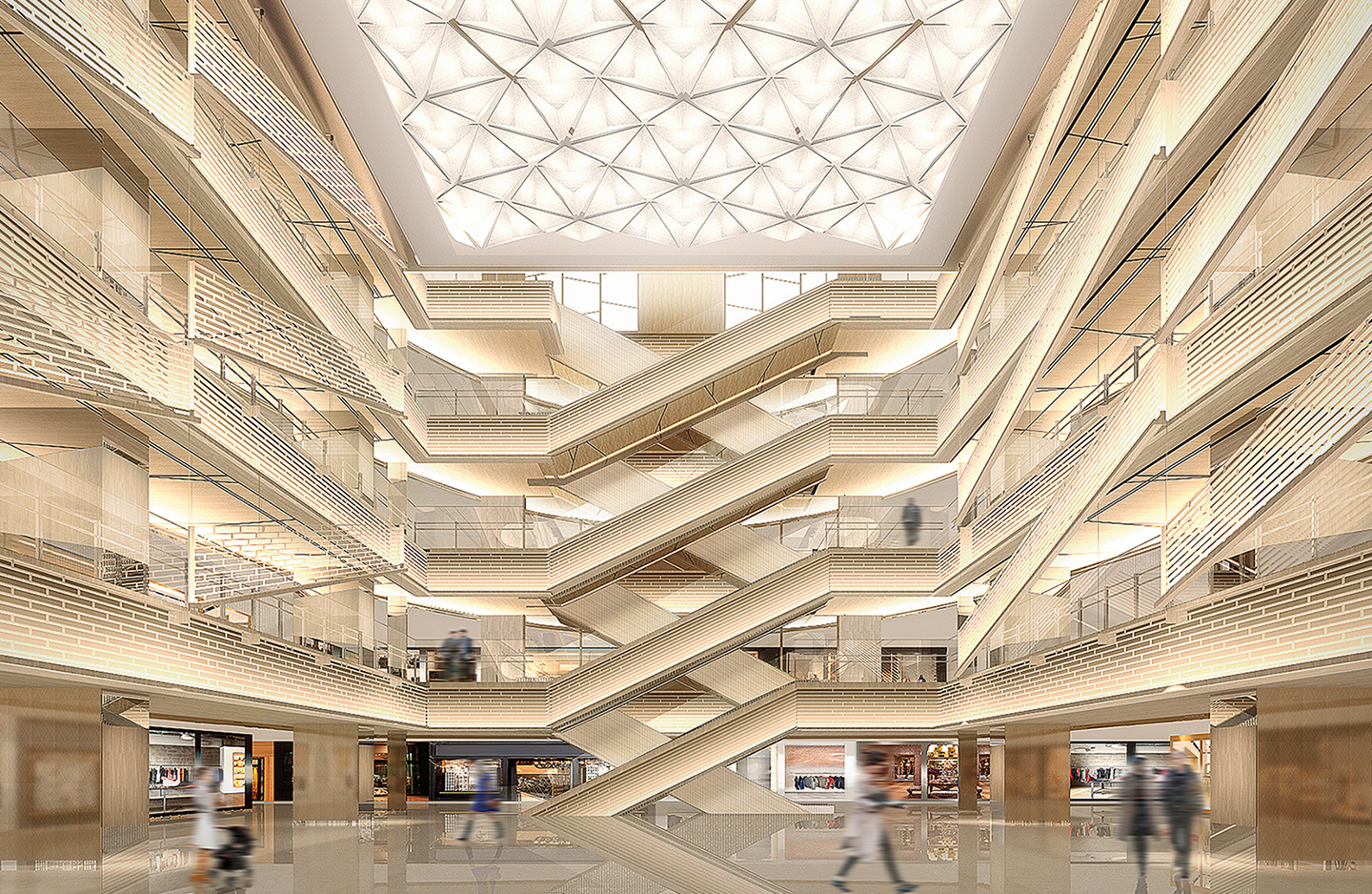 Memory around the town of Ginza
In the 1970s, there was French restaurant where it was said that it was the best in those days called "brick shop" in Namiki-dori St. In the days of university student, we worked part-time in editorial department of trip magazine called "travel Times" of publishing company in the upper rank for around two years. While president ate in the brick shop, you interviewed foreigner of airline and hotel and the trip industry, but I attended there and took memo and took photograph and had to do to interpreter. When you must eat all the full-course meals of French cuisine while doing that and look back, it is great technique (laugh). That is memory of Ginza.
On the other hand, there are the well-established masters of Ginza to friend from college student days, and they who carried merchant culture of Tokyo after the Meiji era still have pride in Ginza. We have thought to "be still our town here" that brand Shops came to sit in a row. In addition, it was told the other day by the person concerned when there was opportunity to invite to event of Ginza, and to talk about saying it was saying "originally Ginza was island". "Free-standing tea ceremony room Bridge" "Shimbashi" where it remained only with the place name now "Kyobashi" was bridge which actually bound Ginza and the outside together before filling canal of the circumference for the Tokyo Olympics of 1964, and making expressway on the top.
Ginza that was island until only 50 years ago. We feel that you must not let you never bury among original memory of such land.
The Heritage of Ginza
Back in the 1,970s, I spent a couple of years as a university student working part time on the editorial staff of a travel magazine called Travel Times. The publisher's offices were located up in a building along Namiki-dori [which runs parallel to Ginza's main shopping thoroughfare Chuo-dori], and below us was a French restaurant called Renga-ya, which at the time had established a reputation as Tokyo's pinnacle of fine dining. The CEO would interview foreign guests from the airline, hotel, and travel industries for the magazine over a meal there, and it would be my job to accompany him to take notes, photos, and even act as an interpreter-all in addition to scarfing down a full-course meal. In retrospect, I was quite the multitasker (laughs). That's one of my fondest memories of Ginza.
A number of friends from my university days have gone on to take over long-established, family-run Ginza shops-institutions, really. These are men who have been cultivating Tokyo's merchant culture for generations stretching back to the Meiji Period [1868-1912], and for them, Ginza remains the pride of Tokyo. Even now when high-fashion brand boutiques line the streets, they still consider Ginza their town. On a similar note, the other day I was invited to attend an event there, and I was speaking with one of the organizers, who explained to me that Ginza used to be an island. The areas we now call Sukiyabashi, Shinbashi, and Kyobashi-these names originally referred to bridges that connected Ginza to the mainland [bashi, or hashi, means "bridge" in Japanese]. The city filled in the surrounding canals and built an elevated highway in the lead-up to the 1964 Tokyo Olympics.
Ginza was an island just a half century ago. I feel that we have an obligation to keep this land's unique heritage alive.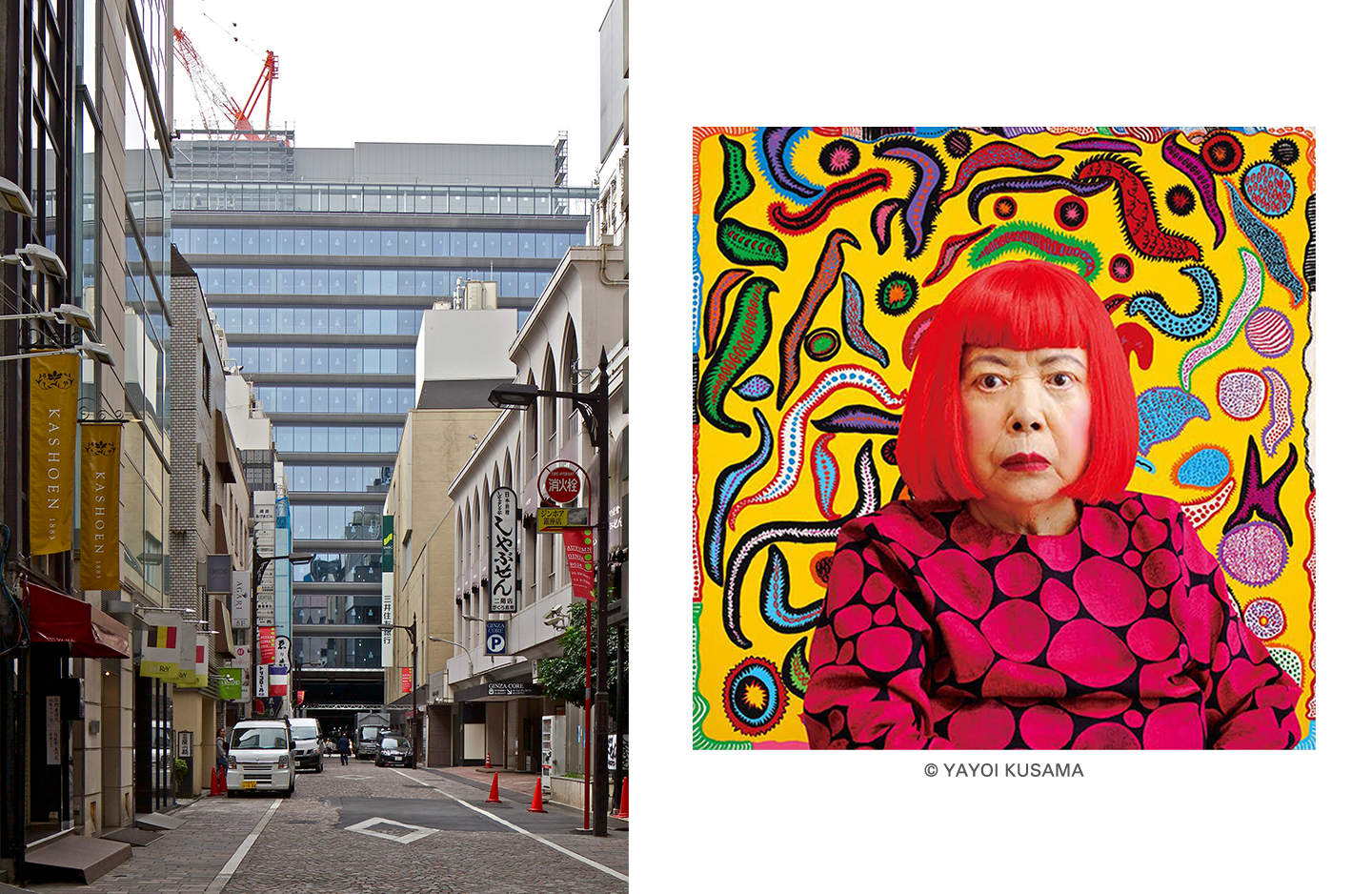 Think about "New Luxury" which GINZA SIX publishes
In the current times, what's called luxury turns into experience not thing. We opened shop called "MIWA" which provided service that my acquaintance wrapped gift which customer brought in several years ago in manners "how to wrap" (cages) of Japanese traditional present having been continued since the Muromachi era in Paris. Noren is raised in alley of Saint Germain Des Pres, and there is tokonoma when we enter small shop, and there is counter made of boards of hinoki. He comes out in kimono and makes Matcha, but there is not visitor was when I came, trying. Still we follow.
On earth we visit him if we ask what happens when people engaged in plan of luxury brand want to hear story about "how do you design experience?". That leads to work.
We think that role to provide special experience as thing for art in the future may not be sought.
Thoughts on GINZA SIX's "New Luxury" Concept
These days when we talk about luxury, we refer less and less to material things and more and more to experiences. A few years ago an acquaintance of mine opened a shop in Paris called MIWA, which specializes in gift wrapping using a traditional Japanese method known as origata [where a single sheet of handmade paper is used with no scissors, tape, or glue] that has been practiced since the Muromachi Period [1336-1573]. It's a quaint little shop nestled on a side street in Saint-Germain-des-Prés, with a tokonoma [an alcove in a Japanese-style reception room for displaying a flower arrangement or other piece of art] by the entrance and a counter made up of a single slab of Japanese cypress. My acquaintance welcomes customers in a kimono and even prepares and serves them matcha [powdered green tea]. But the thing is, I've stopped by a number of times, and each time I never see anyone in there. Yet somehow he doesn't go out of business.
When I finally asked him how he was making ends meet, he told me that planners and strategists from various luxury brands come to him for advice on how to design customer experiences. He's essentially a consultant for hire.
That's just one example of how people are beginning to look to art not as an object to ponder over, but as something that provides a lasting experience.
Mori Art Museum Director

Fumio Nanjo

It was born in Tokyo for 1,949 years. Mori Art Museum director takes office in November, 2006. We successively hold commissioner of domestic and foreign art festivals or artistic director, curator or judge. We perform various direction of large-scale public art plan, corporate art plan for many years.

Director of the Mori Art Museum

Fumio Nanjo

Born in Tokyo in 1949, Fumio Nanjo is an art critic, curator, and the Director of the Mori Art Museum, a position he has held since November 2006. He has served alternately as commissioner, artistic director, curator, judge, and in other capacities at art festivals throughout Japan and the world, and is known for his long, prolific career directing and supervising various major public art and corporate art projects.

(September, 2016 interview)
Interview and Text by Yuka Okada/Photographs by Satoko Imazu (Portrait), Toshiharu Kitajima (Architecture)