The axis unique to Ginza is represented in GSIX logo
Imbuing the "GSIX" Logotype with Ginza's Poise
VISUAL IDENTITY
Kenya Hara
With logotype appropriate for Ginza
We think that town called Ginza has "axis" that they did with a whack. For example, in downtown of same Tokyo, Roppongi may move slightly, and it may become attractive that thing which rather moves slightly gathers. Extremity of energetic chaos is enough for Shinjuku. Therefore we thought that considerably tough "axiality" to support every thing was necessary for VI (visual identity) mainly on logotype when we heard that very big commercial facilities called GINZA SIX were made this time, and high brand entered a lot.
On the other hand, we are not like letting building of Yoshio Taniguchi packs with showy technology and design and say, "it is great!" and it is extremely static and is minimal. When we were going to snuggle up to such a building, we felt like chipping power of building when only logo was delicate, and detail was lively. When concise thing is not connected by the same view of the world, there is not meaning.
As a result, this logo became what's called "one which was so simple, and was good", too. Not only concise reason, luxury and fashion but also traditional culture and high technology, contemporary art…We think that it becomes thing which can snuggle up to every scene.
By the way, "GSIX" stood as main logo, but original problem "wanted you to make in GINZA SIX". But get tired of store a little even if Ginza does me in building at workshop for another 33 years after entering Japanese Design Center in 1983 even if you do when it is only place with the name called Ginza…(laugh). Therefore we suggested "GSIX" and contracted form.
Color makes "only G" gold. Image KOLOR of Ginza is golden for me. As it is Ginza, it is place where we want to say silver, but thinks that it is color appropriate for "axiality" that told some time ago.
A Logotype Fit for Ginza
If you ask me, Ginza is a shopping district that has poise. Look at other bustling areas here in Tokyo: Roppongi can be indecisive and even insecure, and you could even say that its very charm lies in it being a hodgepodge of ambivalent ideas. Then there's Shinjuku, which is brimming with energy and is the epitome of chaos-in a good way. So when word came to me that a large shopping mall called GINZA SIX was being built with many high-end brands among its tenants, I knew that the logotype and the entire visual identity around it had to have the kind of solid backbone that can stand the test of time.
At the same time you have Yoshio Taniguchi, whose architecture is not the kind that wows you with showy technology or excessive design-rather, it is extremely static and minimal. When you think about how closely the logo will be associated with the building itself, and vice-versa, a logo that disregards the overall aesthetic and is too refined or too festive may unintentionally subvert the power of the architecture. If the architecture and the visual identity were both going for simplicity, it had to be within a unified aesthetic-otherwise, there would be a disconnect.
Consequently, the final logo for GINZA SIX ended up being surprisingly simple. But it's that simplicity that gives it almost universal applicability, whether it's luxury, fashion, traditional culture, cutting-edge technology, contemporary art...you name it.
Incidentally, the main logo is comprised of the letters "GSIX", but initially I was asked to use the full name "GINZA SIX". But as someone who has been working in Ginza for 33 years since I first joined the Nippon Design Center in 1983, I had seen so many buildings and shops with "Ginza" in the name that it had become cliché…(laughs). So I proposed an abbreviated form: "GSIX".
As for the color, only the "G" is gold. In my mind, if Ginza was a color, it would be gold. You were probably expecting me to say "silver" [Ginza means "silver mint"], but for me, gold captures its poise.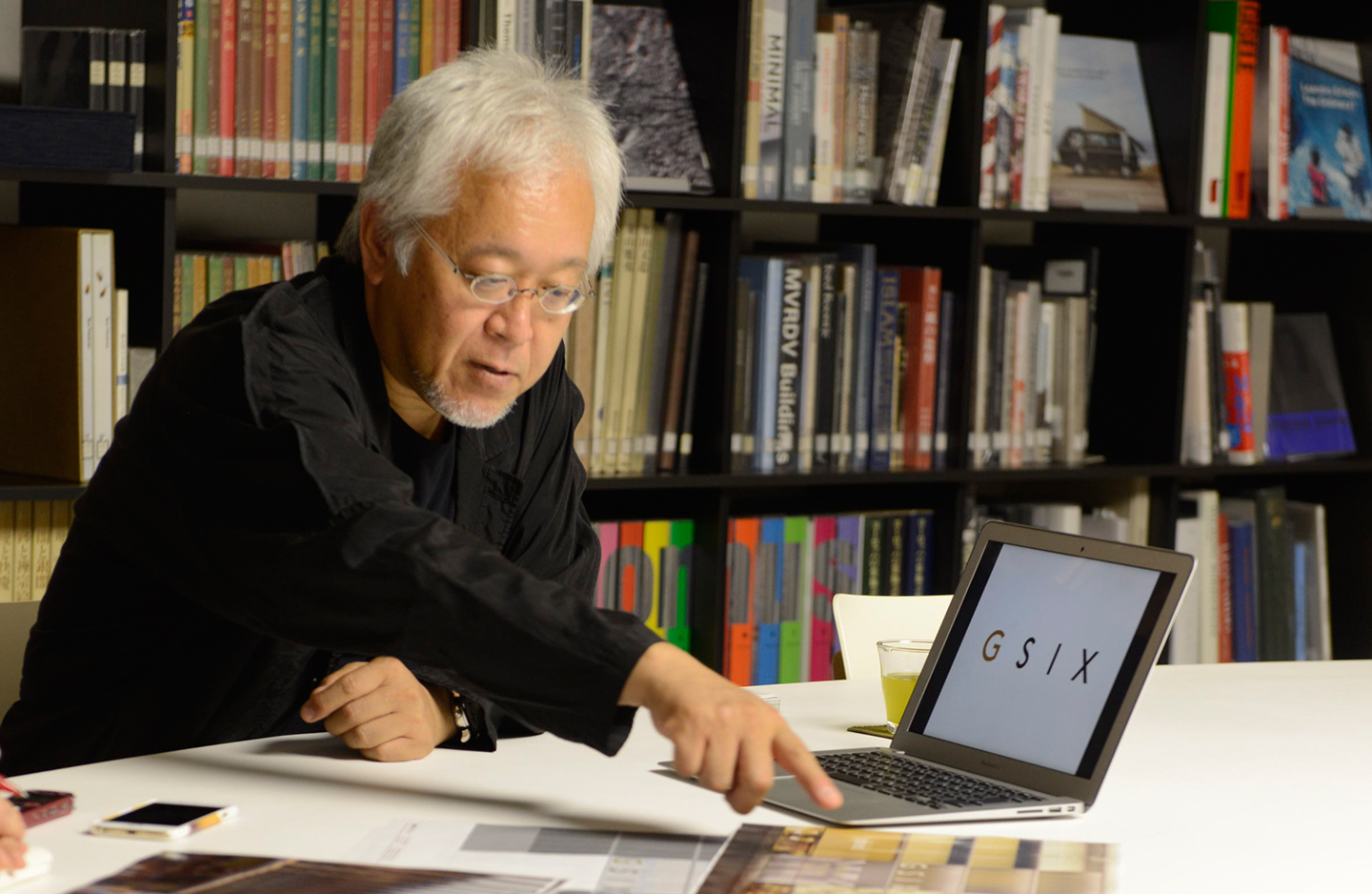 Signature and relations with building to give glory to facade
We have image that is added after having been able to build by all means for signature plan of facade. There are many things to let we guess light right behind letter, and logo appear, but signature of "GSIX" is buried in building in GINZA SIX and falls. When it is night, from the inside of building, letter becomes impression appearing white. When it is at one with building, and this does not plan, it is not established. Therefore it is said that it is seen in row of facade of building group of Ginza Street more closely or hopes when he/she may give impression with quality never different.
In addition, along with logo of high brand sitting in a row on the first floor of GINZA SIX, logo of "GSIX" rises without losing and must support them. Therefore, after all, what is shown thinks that it is "axiality" to come from brevity of logo.
We heard that most buildings in main street of Ginza were completed at the time of the Tokyo Olympics of 1964. With the Tokyo Olympics of 2020, Ginza will be surely reborn again. At that time, neither any architect nor designer is like just taking molding of crest and polygonum filiforme of in Japan which is not stereo type that is Edo and should think about how you express futuristically. Ginza is town which is conscious of new growing point by way of Japan in all ages.
Logo of GINZA SIX is "the sum" and meets people who came from the outside how, and do you receive in this sense? We make the neighborhood in spite of being thought.
The Relationship Between Facade and Sign
Plans for the sign on the facade usually come after the building has been completed; often the logo is simply attached to the front of the building and backlit to give it a three-dimensional appearance. But with GINZA SIX, the GSIX s"ign is embedded in the architecture and illuminated at night from within the building-giving it a distinctive white glow. For this to happen, the building letters had to be designed together with the architecture. So I'm confident that this facade will be able to hold its own along the stretch of facades on Ginza main street [Ginza's main shopping thoroughfare, Chuo-dori]. My hope is that it leaves a singular, lasting impression on customers and passersby alike.
And of course, the GSIX logo has to be able to stand above the logos of the high-end brands that will occupy the ground floor of GINZA SIX. But at the same time it has to be able to give them the space to shine. That's where, I think, the logo's solid backbone will do the heavy lifting.
Someone once told me that the majority of the buildings on Ginza main street were built to coincide with the 1964 Tokyo Olympics. Perhaps the 2020 Tokyo Olympics will be an opportunity for Ginza to undergo a renaissance. In the coming years I am sure all of the architects and designers involved in local projects will be inspired to design the Tokyo of tomorrow, rather than rehash stereotypical Japanese designs, such as Edo Period family crests and mizuhiki knots [a traditional decoration made from a cord of tightly wound and starched rice paper, often used to adorn gifts and cards]. Ginza has long been and will continue to be a growth point through which Japan strives to reach new heights.
In that sense the GINZA SIX logo embodies wa [a cultural concept roughly translated as "harmony" or "peace", in addition to being an ancient name for Japan itself], and throughout the development process I was constantly asking myself how it would welcome and receive our guests.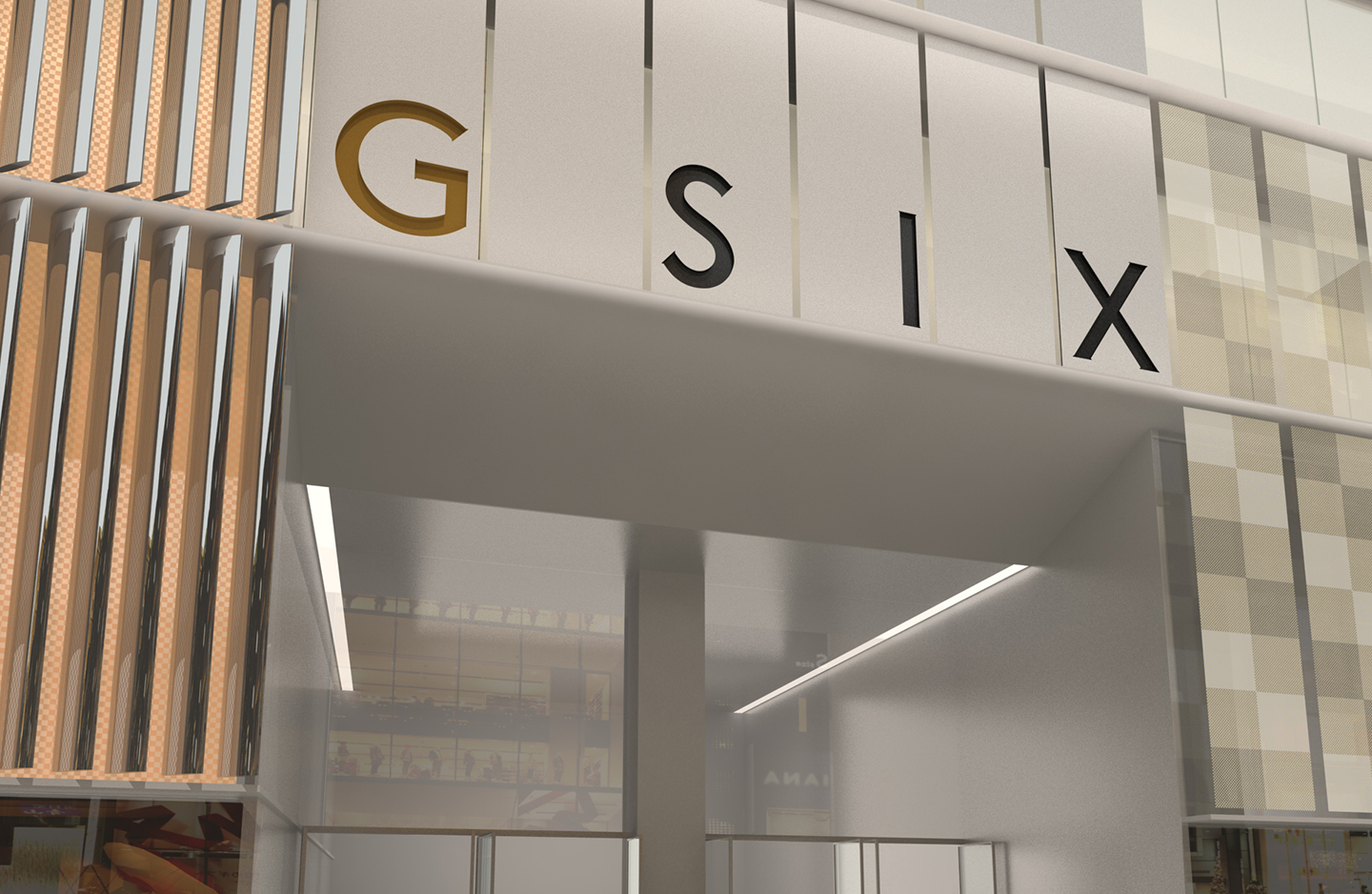 Role to expect in GINZA SIX
Of Japanese style "value" show, and unique method is in. When I explain this to overseas person, I use the word "Empty" (empty). It is method to bring about value by taking that rather images of partner overflow without not letting you show most and overwhelm, and showing anything as much as possible.
There is technique to call in a person's attention by expression that jewels were inlaid with like gorgeous topukapu palace, but does in "empty" not what pack information okoredemokato. And.that there rises for image that people created without permission while we do not know without knowing We feel that it may be to say luxury only in this country that is brought by such a method.
For example, tokonoma expresses anything as we arrange one flower, or scroll arranges axis. Japan may look interesting when they can manage sense, "method of choice is up to you" well.
We embody with such a Japanese style luxury and let you say, "I want". How do you show thing letting you come to Japan all the way and buy while chewing background of culture that we have?
Possibly it may be different from luxury that high brand showed so far. But we think that we may be tied to "New Luxury" to advocate of GINZA SIX if such a thing can embody.
There should be heart which continues producing such a value midmost of Ginza. We want to expect such a role in GINZA SIX.
High Hopes for GINZA SIX
In Japan we have a unique way of expressing aesthetic value. When I try to explain this concept to foreigners, I use the word "emptiness". Instead of overwhelming the observer with ideas, you make every effort to impose nothing. It's about leaving room to receive the observer's worldview, interpretation, emotions, ideas, etc.
The gorgeous and ostentatious TopkapıPalace in Turkey puts all of its jewels on display, and that is one way to attract interest-and certainly, one type of beauty. It is People would have the freedom to conjure up their own ideas and impressions-and the space would be all the richer for it. But what if instead of packing a space with every idea you've got, you left it as "empty" as possible For me, that is the way to invoke a new vision of luxury that this country alone can put forth.
It's essentially the concept behind the tokonoma [an alcove in a Japanese-style reception room for displaying a flower arrangement or other piece of art]. The space exists to inspire you-maybe to display a single-flower arrangement, or to hang a picture scroll. Japanese culture can often come across as impenetrable, but if we can convey a sense of "this is open to interpretation", I think people would be much more interested in seeing what Japan has to offer.
So we should give foreign visitors a taste of Japanese-style luxury as a way of speaking to their inner desires. We should possess a true understanding and appreciation of our own cultural background and focus on how to present a vision that will inspire people to come all the way to Japan to experience it firsthand-to buy and take home. And that may be different from the conventional image of luxury put forth by high-end brands up until now. But I believe it is the path to realizing the New Luxury envisioned by GINZA SIX.
My wish is for GINZA SIX to become the heart and soul at Ginza's center, a wellspring of new ideas, beauty, and value.
Designer

Kenya Hara

It was born in Okayama for 1,958 years. President & CEO of Nippon Design Center, Inc. and Professor at Musashino Art University, Kenya Hara often undertakes work deeply linked to Japanese culture, including the programs for the opening and closing ceremonies of the Nagano Olympics and the official poster for Expo 2005 in Aichi. Hara places equal emphasis on the design of mono (tangible things like commodities) and koto (intangible things like concept, story, and user experience). We deal with VI of TSUTAYA in GINZA SIX.

Designer

Kenya Hara

Born in Okayama Prefecture in 1958, Kenya Hara is President of Nippon Design Center and a professor at Tokyo's Musashino Art University. Much of his work is deeply rooted in Japanese culture, including the programs for the Opening and Closing Ceremonies of the Nagano Winter Olympic Games (1998) and the official poster for Expo 2005 held in Nagoya in Aichi Prefecture. He is a renowned designer of things as well as experiences. In addition to GINZA SIX' s overall visual identity, he has developed the visual identity for its TSUTAYA store.
(September, 2016 interview)
Interview and Text by Yuka Okada/Photographs by Satoko Imazu