In reward to holiday gift and oneself. British refined and gorgeous leather goods come in BRITISH MADE!
BRITISH MADE/Drake' s
Fashion
New item of holiday season comes up than collection of GLENROYAL "Grace Collection" for "adult woman who became independent with style".
In five colors of Bridle Leather letting you feel winter clear air and gorgeous atmosphere of holiday season, carved seal of gold brings on elegance.
Violet that is pretty like ivory and ornament decoration harking back to snow laying thick is new color of this season.
As for the model with zip, color combination adds accent.
Of course we introduce item recommended for gift to important one to reward to oneself.
Carved seal of gold which is impressive in simple design and refined color. Breast wallet of a good storing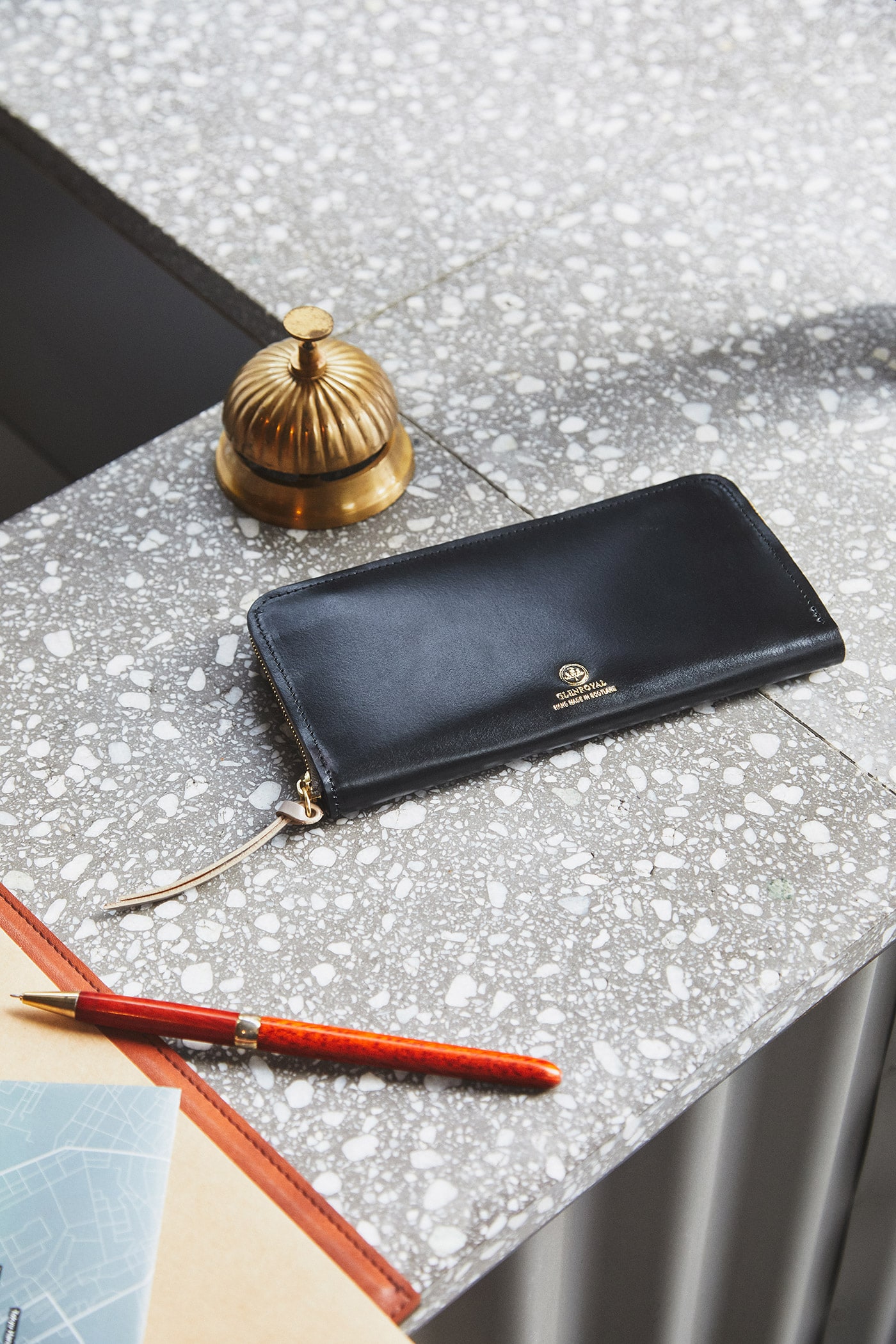 Breast wallet 45,000 yen (+ tax) with zip
Breast wallet of round zip with longish handle. Atmosphere that it is design orthodox at a glance, but it is arranged colors as for zip part and the leather of handle by topukara, and is refined. Carved seal of gold adds activeness.
Two main pockets which coin purse with fastener with gusset is arranged for the center when they open wallet, and bankbook or receipt are packable in in a mass on both sides.
Card pocket has two subpockets for 12 pieces more and is recommended to convenience and for storing power.
It adds elegance to the tidy scenes such as dinner meetings. KOLOR presents two colors of topu X violet in addition to black X topu.
Mini-wallet of folio type that even small bag is reliable, and is light, and is compact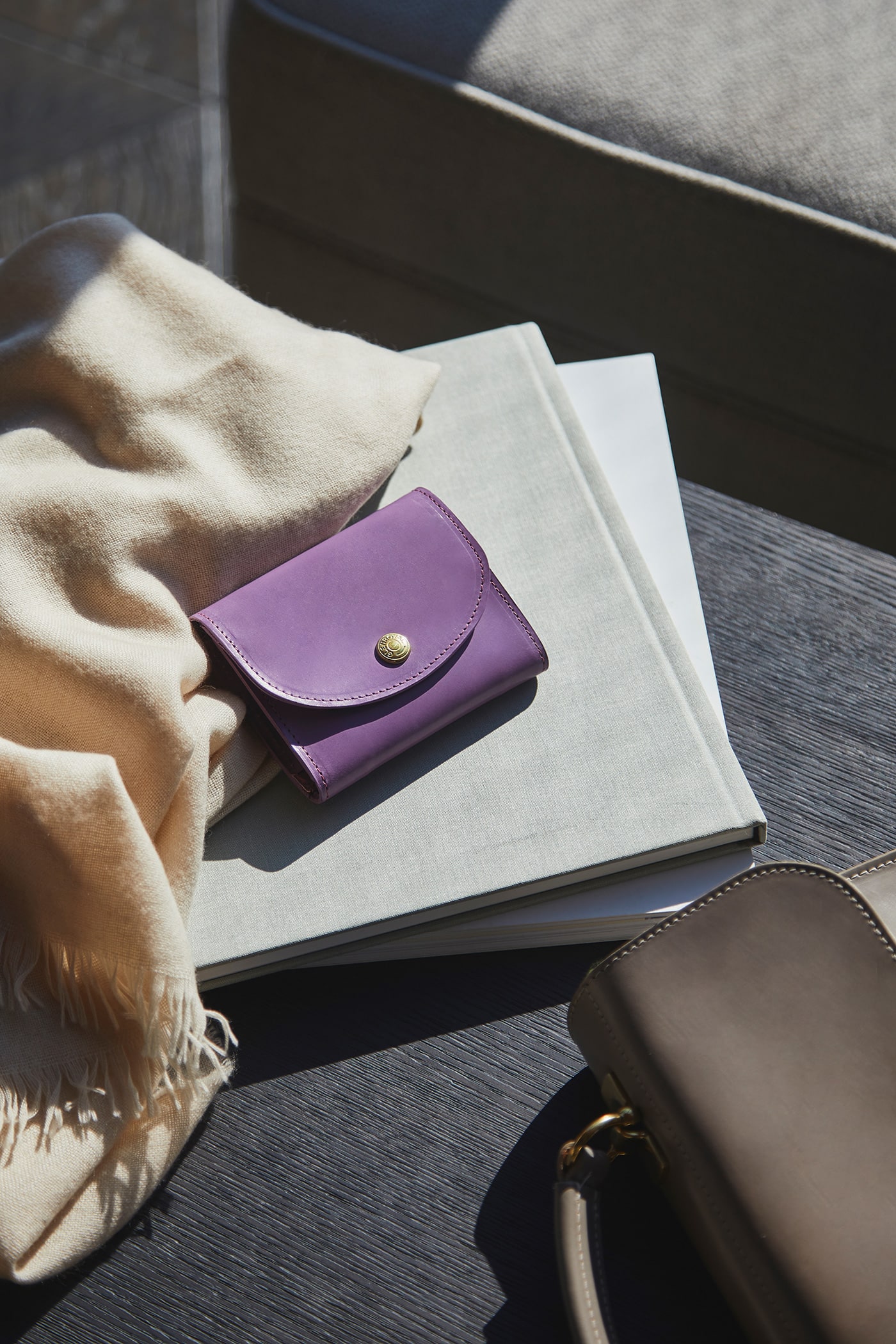 Mini-wallet 33,000 yen (+ tax) with flap
New model was born for popular mini-wallet series with Grace Collection. Although flap design which greatly performed round is simple, we direct soft atmosphere like woman.
Opening and shutting is quick with stud bolt button with carved seal, too. In the medium plane, subpocket is one to coin pocket with flap, three card pockets, one billfold.
Not only design but also convenience is simple and is recommended to person who is light, and wants to have wallet. We are put in pockets such as small bag or coat quickly.
KOLOR is violet, Bordeaux, topu, black four-colored development.
With pouch and mirror made of good-quality Bridle Leather, fix appearance of adult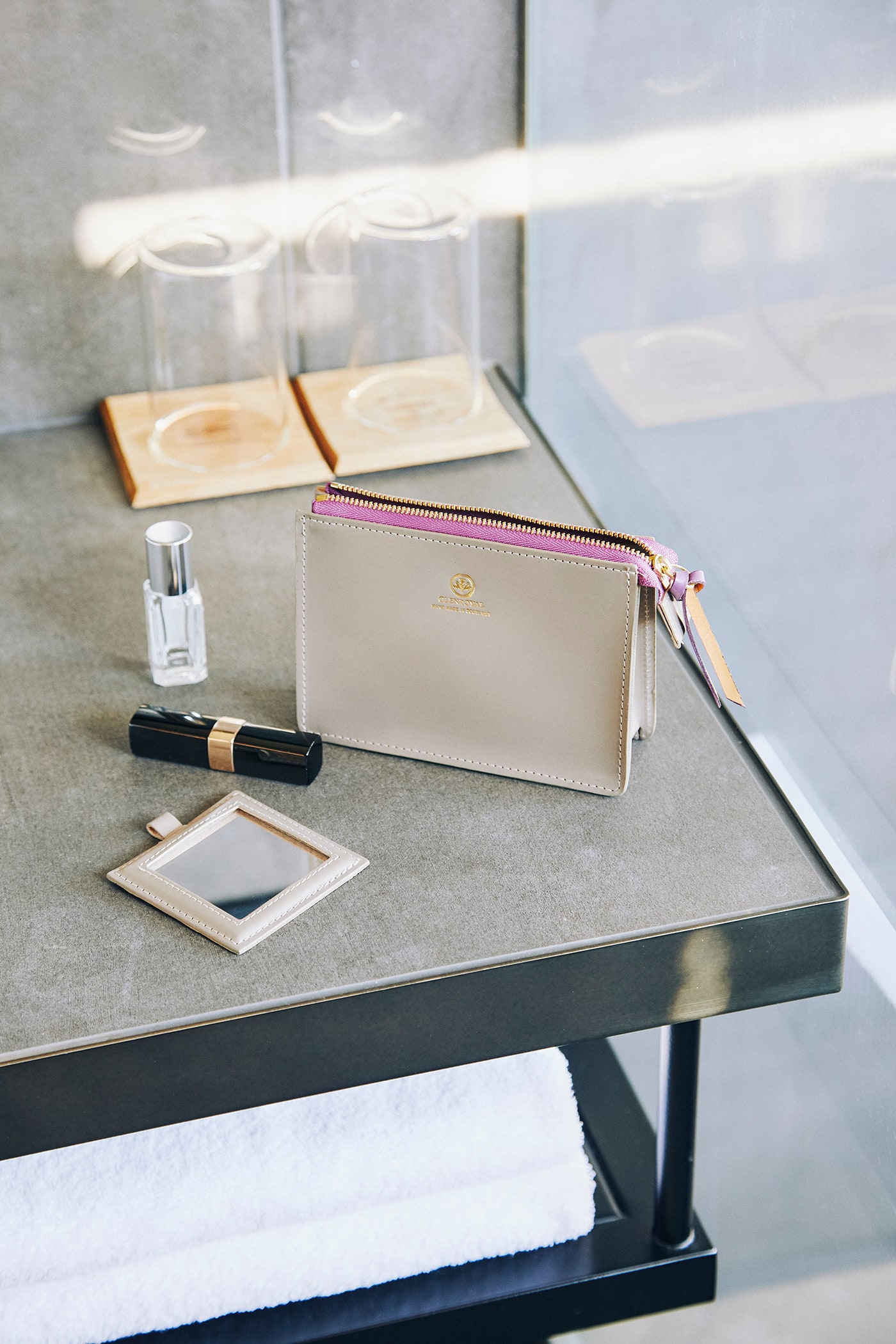 Square mirror 11,000 yen (+ tax) with square mini-pouch 18,000 yen (+ tax)/case
Appearance item for adult woman called mini-pouch of Bridle Leather. Item which won popularity since appearance becomes color design and is re-appearance.
Zip part and coloring of handle of leather are impressive. As there is storing power with more than of appearance with gusset of about 4cm and becomes independent well, conduct of make rectification will show smartly, too.
Because use leather chipped thinly, point that is glad of the pouch being light. Mini-size that mirror with case is covered to strong leather, and is convenient for carrying around.
It is higher-grade appearance item achieving feeling.
Pouch is topu X violet, black X topu, three colors of Bordeaux X topu. Mirror is topu, violet, Bordeaux, black, five colors of ivory.
Thin round coin case with tassel which we did around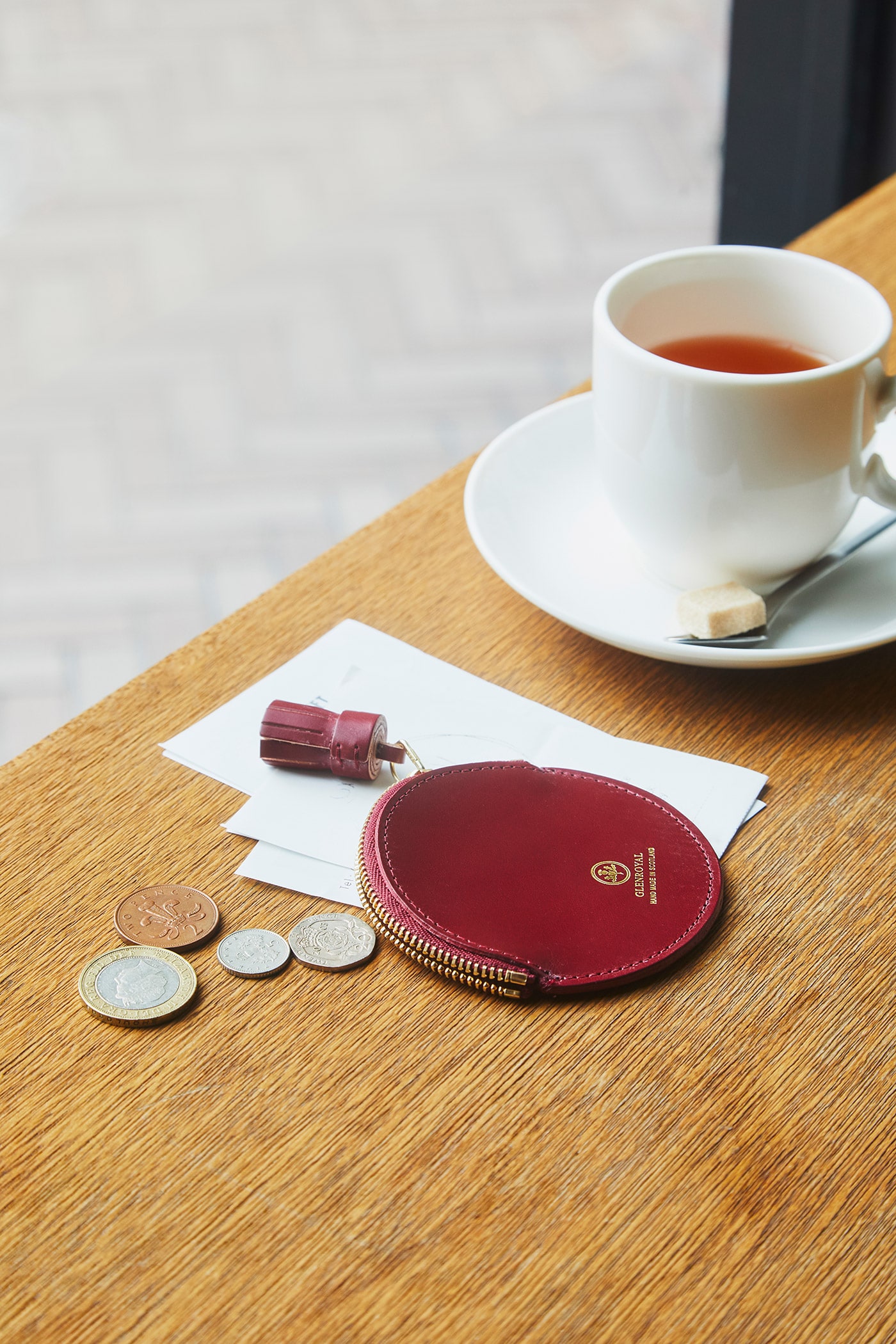 Circle coin case 15,000 yen (+ tax) with tassel
Design which coin case that small tassel is pretty is round shape without gusset, and is compact. The feel that zip arranged for 180 degrees is easy to extract thing of the inside, and is comfortable.
It is usable as multi-case which small items such as accessories or earphones such as rings are put in although being small as durable Bridle Leather protecting thing of the inside well is made.
KOLOR is five colors of development as well as mirror.
Take in good-quality bridle leather which breeds in attachment so as to use in season when heart is cheered up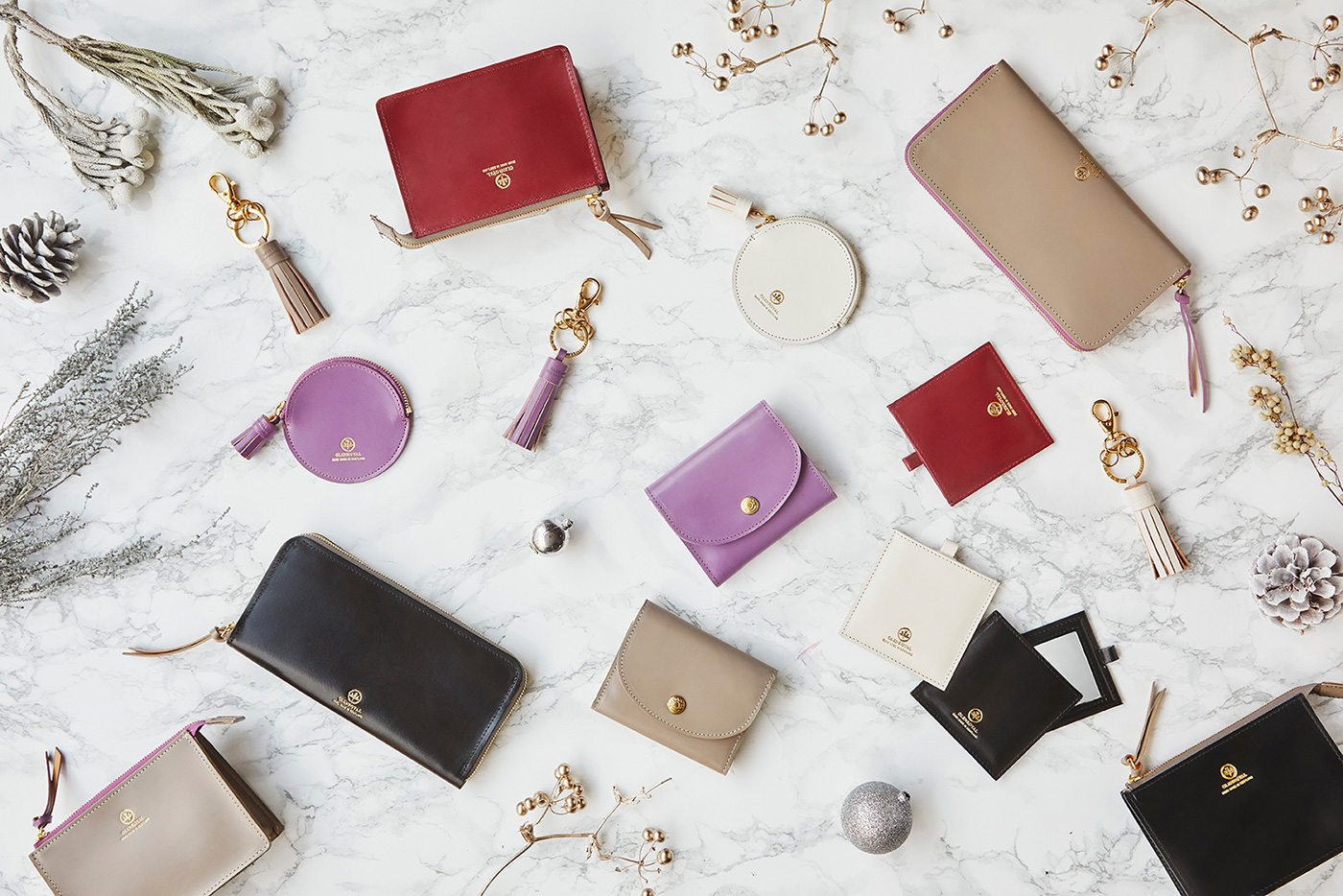 New item lineup for holiday season to develop all 6 types when it increased new color of Grace Collection basic tassel key charm in addition to wallet type 2, pouch, mirror, coin case which we introduced.
It is characteristic that we are familiar with hand so as that British traditional Bridle Leather assumes harness the origin and uses let alone the robustness, and beautiful luster is born.
Small leather goods which can taste good-quality sao as reward to oneself who did the best for one year easily again as gift.
How about having leather goods which feeling that it is to partner carrying creates gaiety to in the hand every day in this season when feeling increases on holiday?
Furthermore, we usually add GLENROYAL Grace Collection or BRITISH MADE comment holiday Collection to release at the same time to lapping to customer of the purchase as gift at BRITISH MADE store from Friday, November 22 and present botanikaruonamento by entertainment florist tsuki+.
※It becomes the end as soon as it disappears.
This opportunity without right or wrong passing over.
BRITISH MADE/Drake' s
Holding place: 5F
2019.11.22 improves