Collaboration suit of DRAKES and gem by Italian noble mill "VBC" appears in DRAKES Ginza store!
BRITISH MADE / Drake's
Fashion
Suit of special fabric made DRAKES tamenodakeni built up in cooperation with Italian noble family mill "VITALE BARBERIS CANONICO (vitare bal Berri's CANONICO)" that "Drake' s (DRAKES)" dominating British high quality total fashion brand and the world top tailor admit appears in DRAKES shop "Drake' s Ginza" of Shop in Shop of BRITISH MADE Ginza shop and the Japan one and only.
Fabric is urun flannelette, covert cloth, three kinds of 6PLY wool.
Based on KOLOR and pattern that received all inspiration from Archive of DRAKES, it is original fabric of DRAKES X VBC produced for this collaboration.
We send the production process how Michael G. Hill who is creative designer did selection of fabric this time when we visited factory of famous cloth in Italian Viyella.
Fabric of the one and only that feelings of British brand created in Italy were jam-packed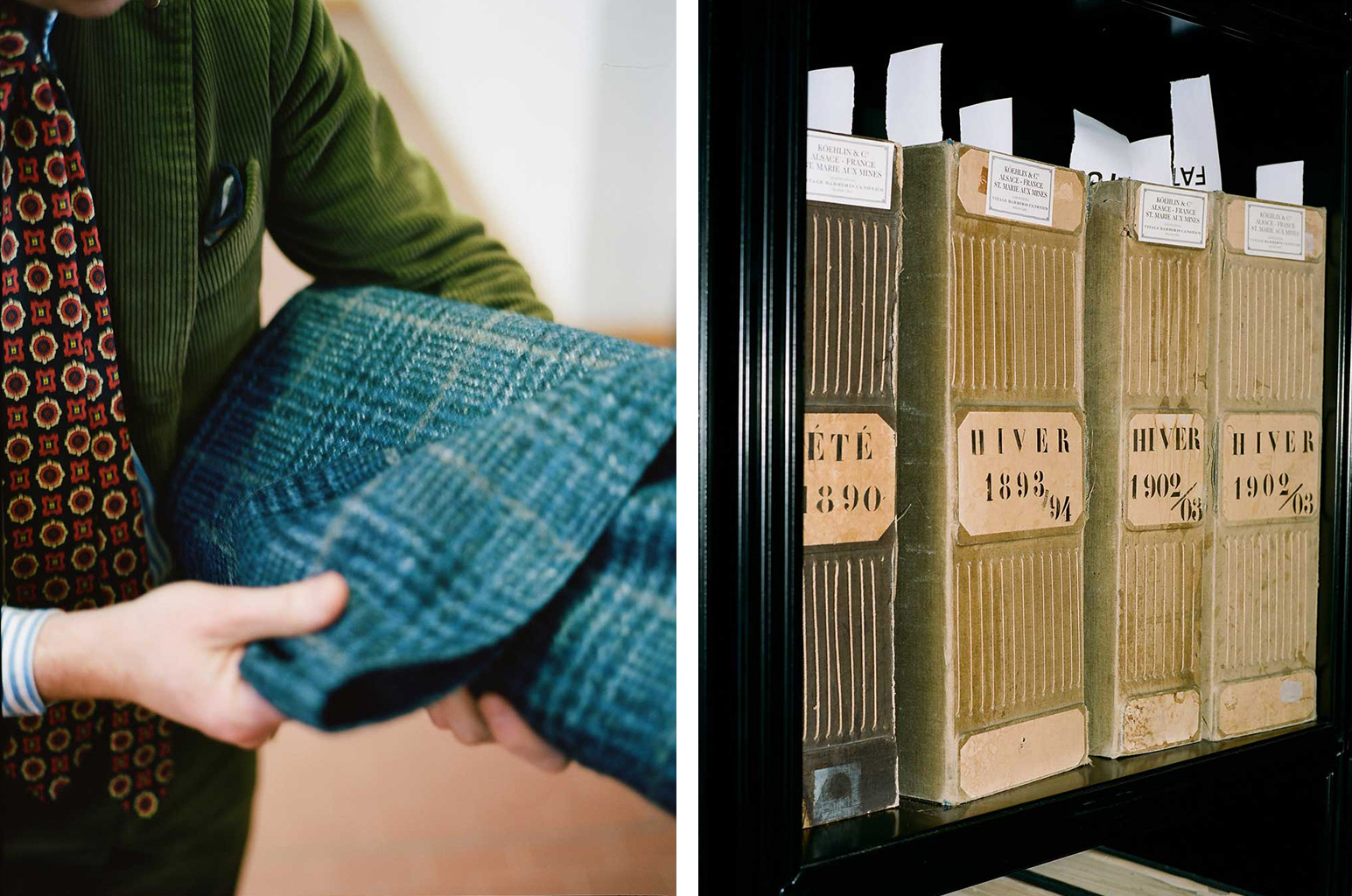 DRAKES built close relations with "vitare bal Berri's CANONICO (VBC)" for a long time so far.
To tender suit made which is indispensable to traditional fashion X comfort that is one of the concepts of manufacturing of DRAKES, we adopt special fabric of this factory.
DRAKES added hand to base with the most famous fabric originally in factory and, through collaboration with VBC, built up three exclusive fabrics of brand original this time.

Symbolic chalk stripes of British suit-style

Drake' s with VBC Navy Chalk Stripe Wool Flannel Suit 209,000 yen (+ tax)
One is navy chalk stripes flannelette.
It is said that we obtained idea from suit which friend of Michael G. Hill wore.
Friend lived by Italian cloth craftsman, and the suit obtained by transfer from his father.
Suit which he wore which continued working as native craftsman was made with very deluxe cloth and comprised sense of quality more than the times.
Thin stripe was British, and good-quality cloth gave off more elegance in spite of being leaving, and Michael G. Hill came to make thing which was original as design sauce with the suit.

Covert cloth which was sewed in comfort
Drake' s with VBC Olive Wool Covert Suit 189,000 yen (+ tax)
The second is covert cloth wool of KOLOR of green.
Generally, it was cloth with a feeling of strong tension, but, at weight to be suitable for thick coat, thought about DRAKES if most suitable for winter tailoring.
Covert cloth is known as the work military origin, and most think that spotted color, thing of texture are associated.
However, hue pure beautifully features cloth for covert cloth of this DRAKES original.
Furthermore, by hanging sen io daringly, give the softness and is prepared so that it is comfortable comfort.

Cloth which represents VBC other; the finest 6PLY wool which wrote

Drake' s with VBC Mid-Grey Six-Ply Wool Suit 209,000 yen (+ tax)
The last is 6PLY (ply) wool of mid gray-collar.
Thing which twists two threads (stops by) is called 2PLY, but this is very deluxe cloth which put three threads which we twisted together.
It is simple, and there is deep hue and hits sense of quality.
He/she brings about bright coloring though by putting threads of various color taste together, see in the whole cloth.
Attempt first in what 6PLY is representative cloth of VBC, and deal with original fabric of brand as VBC.
It is one which we can form simply because it is reliable with VBC at the same time as it is honor for them that DRAKES can come out in that.

BRITISH MADE / Drake's
Floor: 5F
2020.01.23 improves