Hybrid British shoes fitting ON-OFF combined use, all weather debut in BRITISH MADE!
BRITISH MADE / Drake's
Fashion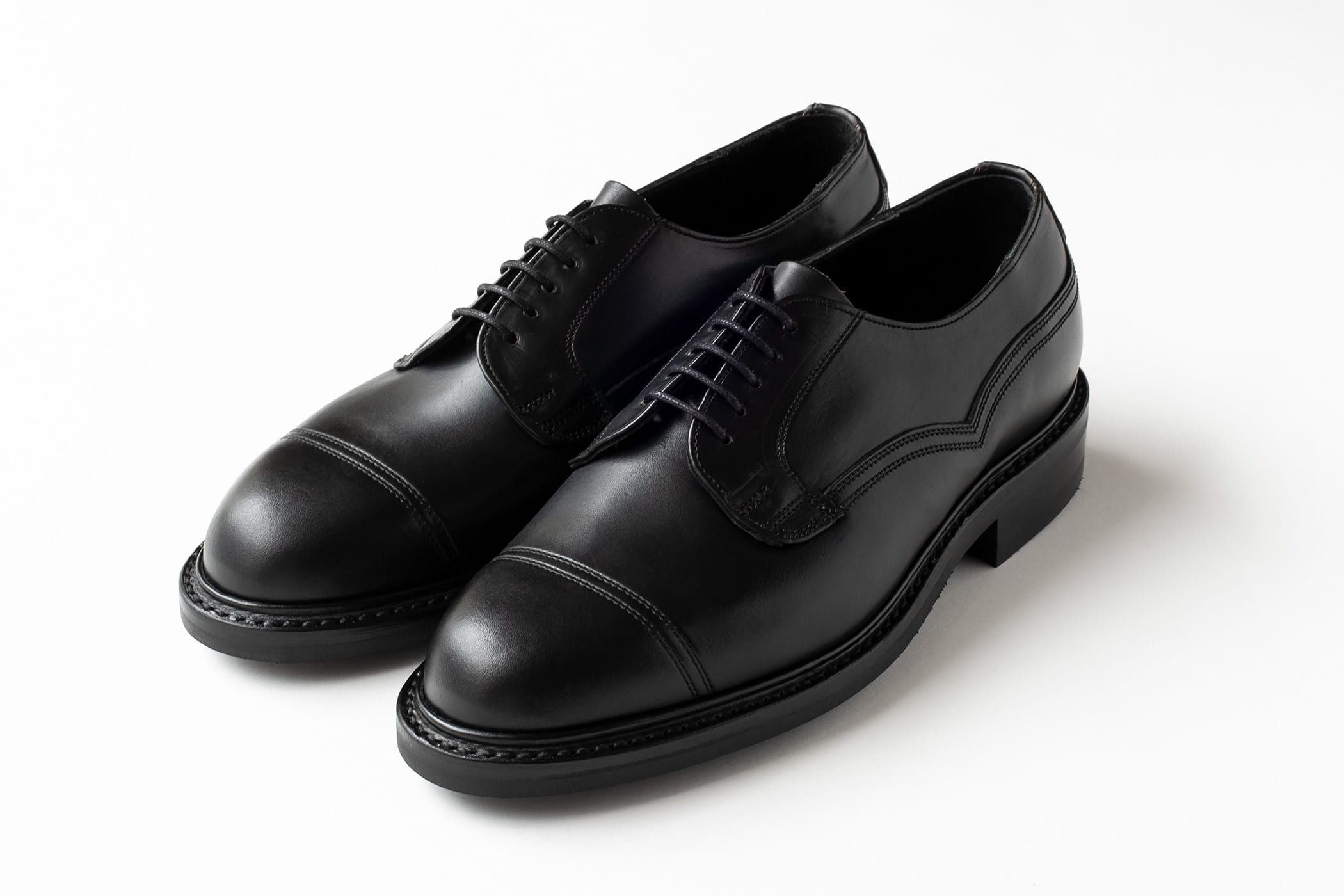 Military Derby shoes "CAIRNGORMIIR" (Ken Gon IIR) which represented Shoemaker "JOSEPH CHEANEY" (JOSEPH CHEANEY) founded in Northern Bu-ston in 1886 became hybrid specifications and debuted in limited number in BRITISH MADE.
Inborn tough impression and specifications such as all weather type realize handsome looks and functionality that as the last or change of sole increase delicate update, can play an active part for business scene of ON/OFF combined use while succeeding.
Furthermore, we were reborn as one pair that width of achievement spread and showed power with every wardrobe.
Please check the traditional and latest hybrid model whom Shoemaker of the British orthodox school gives birth to by all means.
Hybrid model that military functionality was just polished up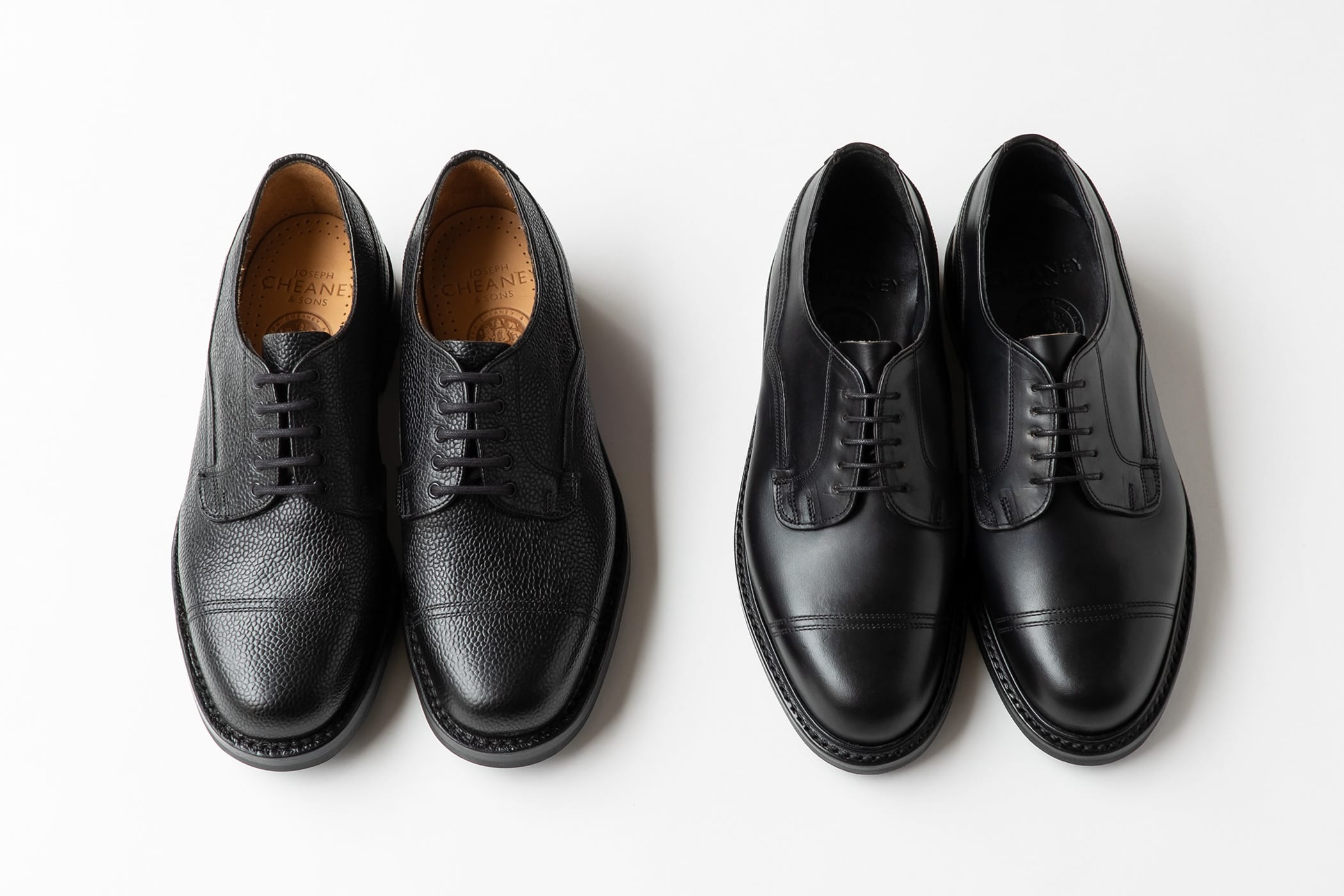 The left: JOSEPH CHEANEY – CAIRNGORMIIR 71,000 yen (+ tax)
The right: JOSEPH CHEANEY – CAIRNGORM H 71,000 yen (+ tax)
"Ken Gon H" (hybrid) where the right debuted this time "Ken Gon IIR" where the left became base.
"Ken Gon H" (hybrid) made Modi Fido as ON-OFF combined use model is the finish of affinity to do eyelet to smooth leather inward, and to like upper clearly in jakepansutairu while succeeding to tough functionality of all weather correspondence models before military shoes carrier.
Moreover, shoe tree was reborn as attractive and urbane one pair that raised general purpose height by to adopt thing which it was easy to put together regardless of ON/OFF, played an active part in every scene more, too.
We adopt traditional chromic excel leather having water repellency by letting oil soak by hand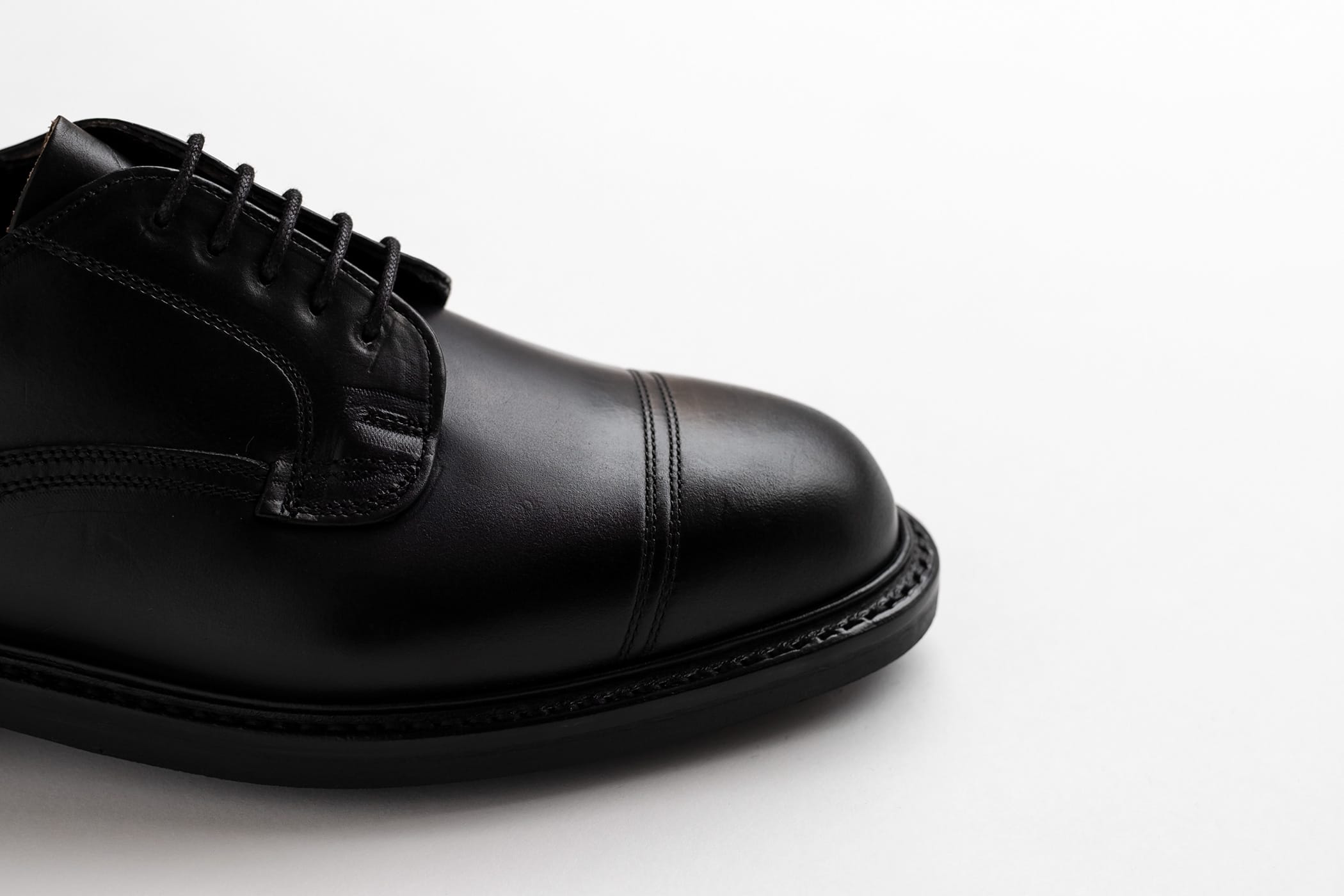 We adopt Chromexcel (chromic excel) leather to upper of "Ken Gon H".
Smooth leather of oirudo processing of feel of a material that is mat gives calm impression for coordinates having water repellency.
Leather on behalf of Horween (houin) company where chromic excel leather is tannaim.
The history sails up the front more than 100 years and is produced after process to amount more than 89 without still changing.
Thing which we paint with characteristic oil which the manufacturing method tans leather as raw material selected carefully by method called "meal which is COMBI", and blended 4 or more kinds of oil and fat such as beef tallow, beeswax, vegetable fat, fish fat and infiltrate into cowhide.
Simple and sturdy work boots has much this chromic excel leather, and reliable utility is proved by adopted background.
In addition, it may be said that chrome excel leather processed oirudo into is tied to representative item of BRITISH MADE so that there is item which lets oil content soak into oirudokottonjaketto, cotton and leather such as Bridle Leather, and gave water repellency a lot in the U.K.
We adopt 175 in the last of JOSEPH CHEANEY legend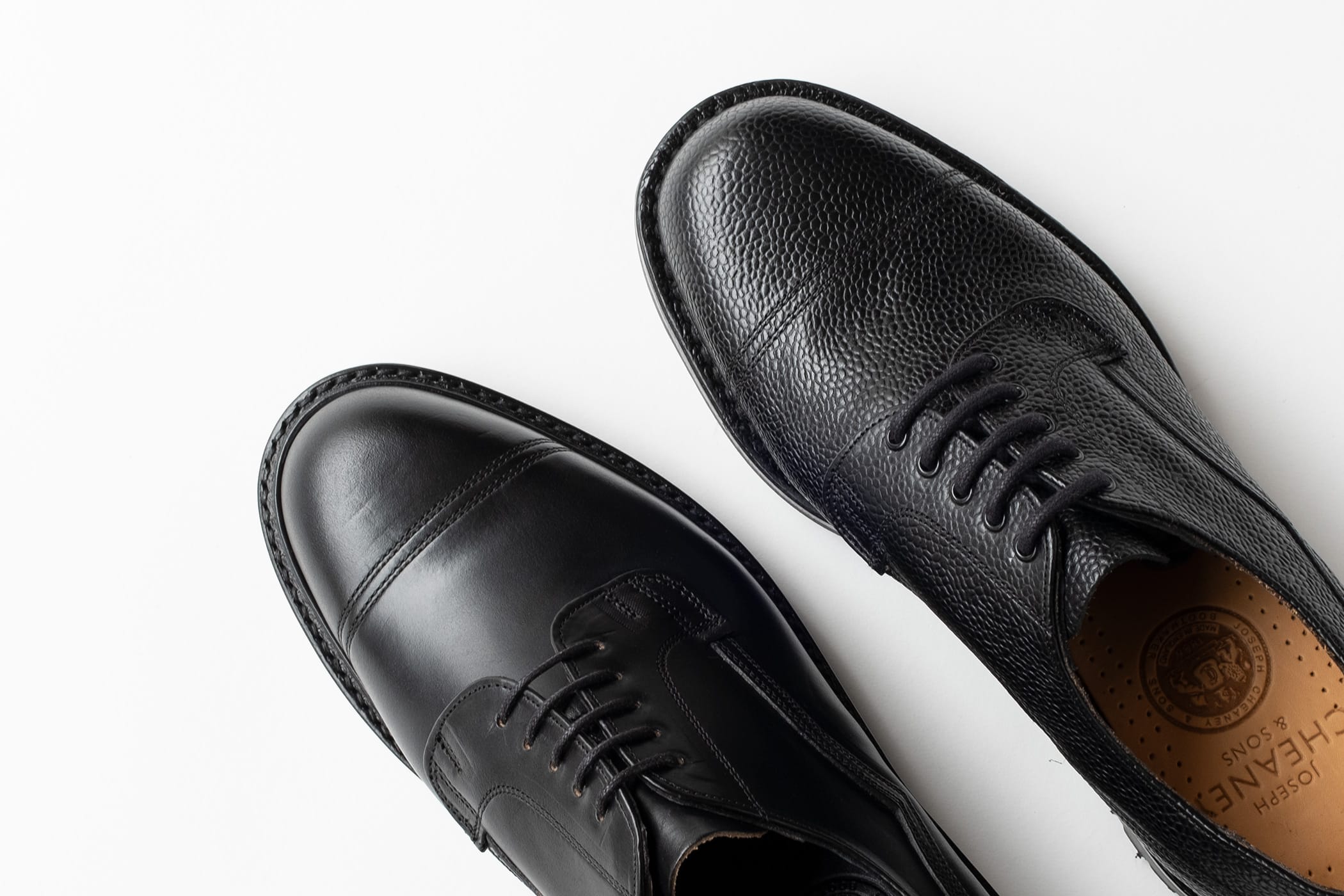 There is one of the reasons that can support business from casual in 175 in the last.
While including voluminous feel, round toe Balance which seems to be like British shoes which are not too round.
This is located midway at just at in 12058 in the last adopted for 125 and moderate voluminous feel in the representative last to do adopted much by dress shoes of JOSEPH CHEANEY by country shoes such as "AVON C" (Avon).
Than "Ken Gon IIR" which adopted 4436 in the military last, it is very more dressy.
Casual sao is exquisite balance not to spoil nevertheless.
As design which reminded shoe tree which was beautiful eyes of V-shaped leather change to come off towards heel, military country such as double stitch was combined, accomplished change to ON/OFF combined use shoes of the one and only.

It is equipped with sole in the die night to take small way in sole, and to balance functionality with sharp looks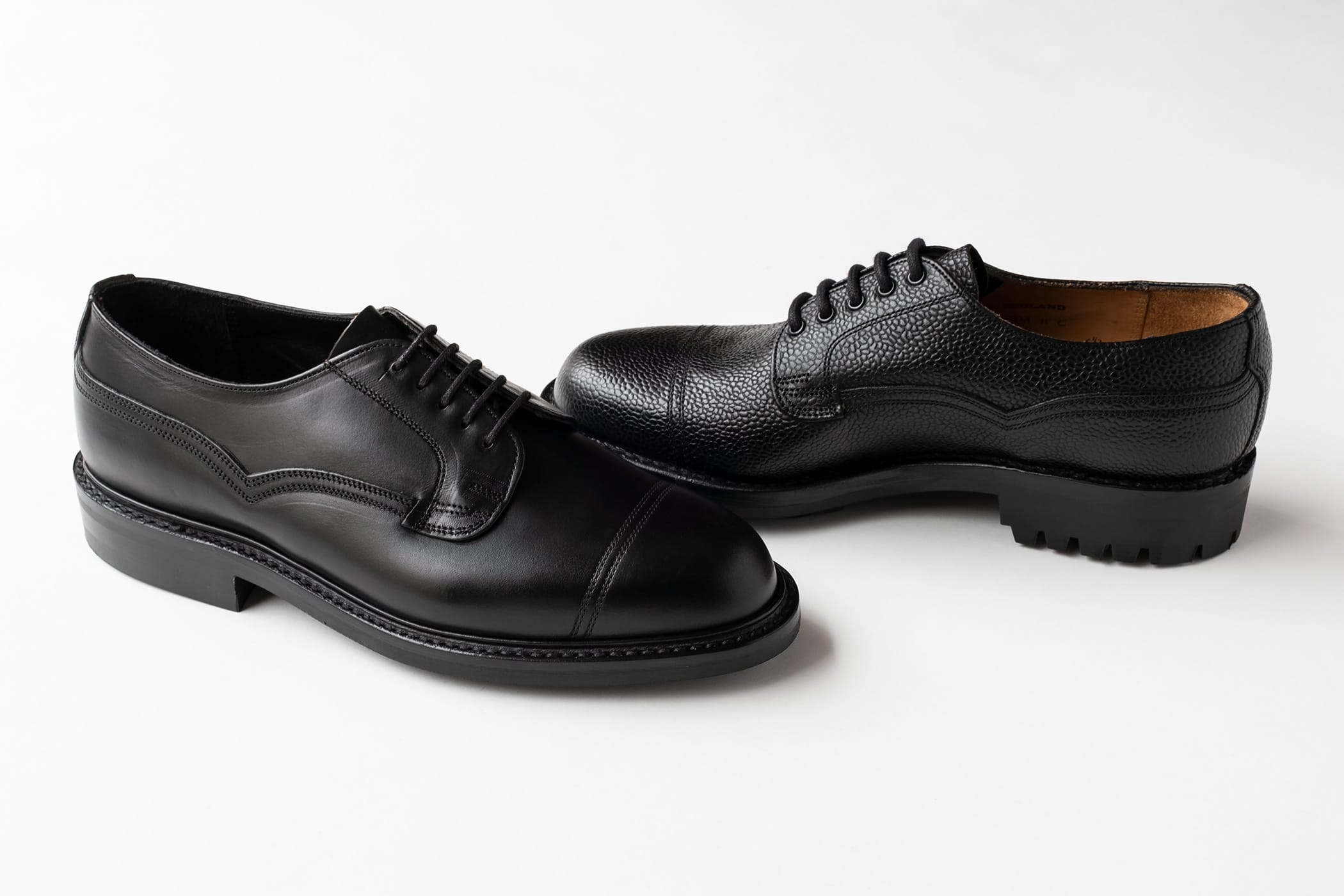 In sole of "Ken Gon H", we adopt sole in the die night of ITSHIDE (ittsushieido) made in the U.K.
Irregularities design reduces tread with the ground and is sole which is reassuring on day of rain which keeps grip characteristics on wet road surface.
Design judging from the side is just like leather sole.
Clean looks that matches clothes of beautiful eyes such as jakepan while there is solid feeling with double sole specifications is right proof as hybrid.
It is clear at a glance that casual taste is neutralized when we compare with right "Ken Gon IIR".

Storm welt produces moderate voluminous feel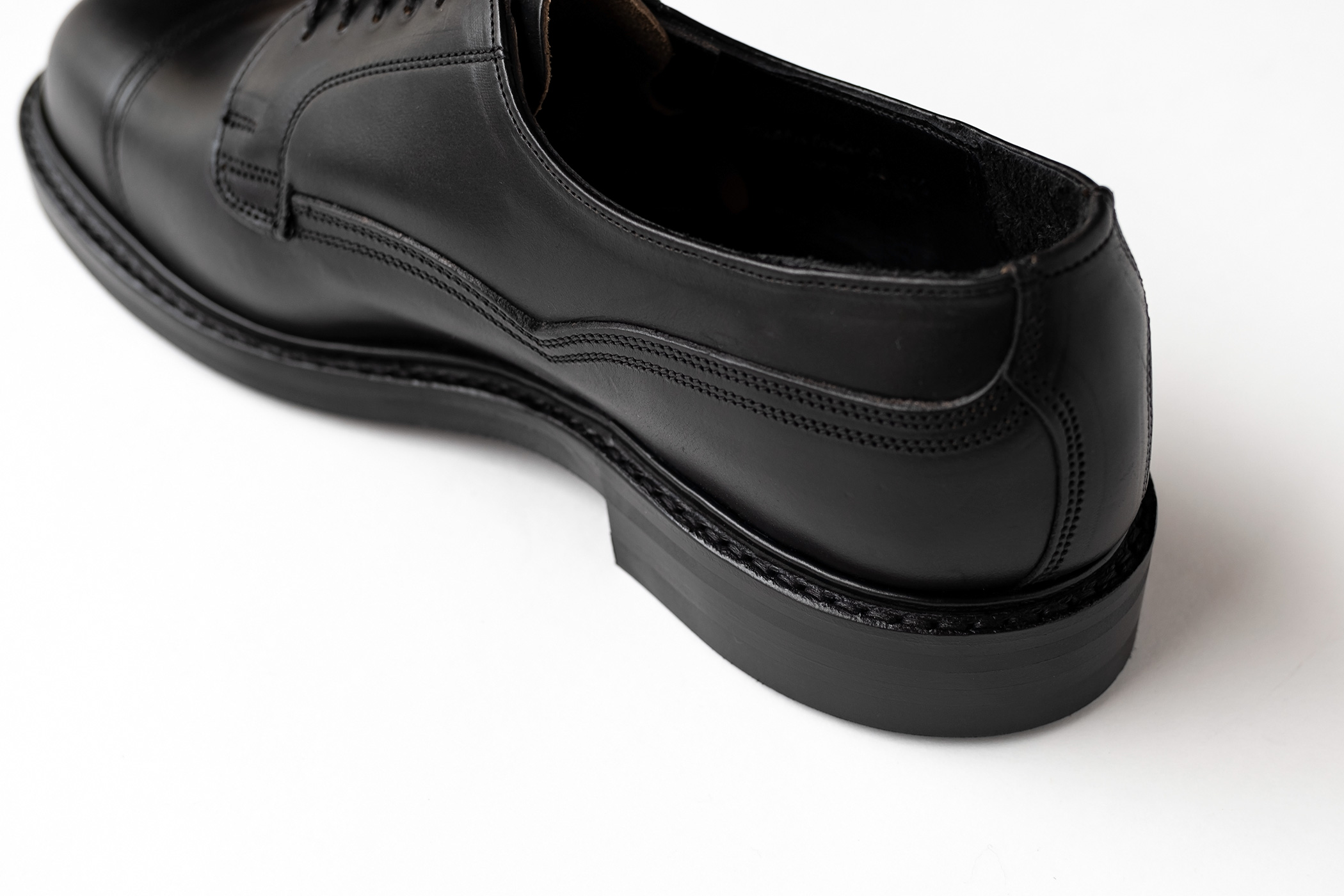 We adopt 360 degrees, storm welt of all around to welt (welt to sew on upper and out sole).
One of the specifications that country shoes have many storm welts which raise waterproof dust proofing characteristics for verutoshonueruto to attach unique impression to although being modest and are founded.
We direct British country taste moderately.
Craftsmanship of Shoemaker whom the U.K. is proud to is covered in "Ken Gon H" in pursuit of ON-OFF almighty everywhere. It is "Ken Gon hybrid" that we are with casual, and can thoroughly enjoy feelings of dress like and Crafts Manship thoroughly.
BRITISH MADE / Drake's
Floor: 5F
2020.01.29 improves