GLENROYAL of rare snow-white pigskin "onesutihowaito." The celebrities collaboration plan second.
BRITISH MADE / Drake's
Fashion
Project "gurenroiyarumitsukurafutopipuru" of GLENROYAL aiming at manufacturing that respected craftsman ship.
For the second H.KATSUKAWA (H Katsukawa) and collaboration.
Collection that paid its attention to pure white pigskin which was particular about natural manufacturing that Eiichi Katsukawa who is craftsman brings about, "onesutihowaito" is debut in BRITISH MADE.
In consonance with Bridle Leather symbolizing brand, we introduce item of new project that we focused on craftsman in succession to traditional technique.
Combination of all white that adopted approach of the U.K. is attractive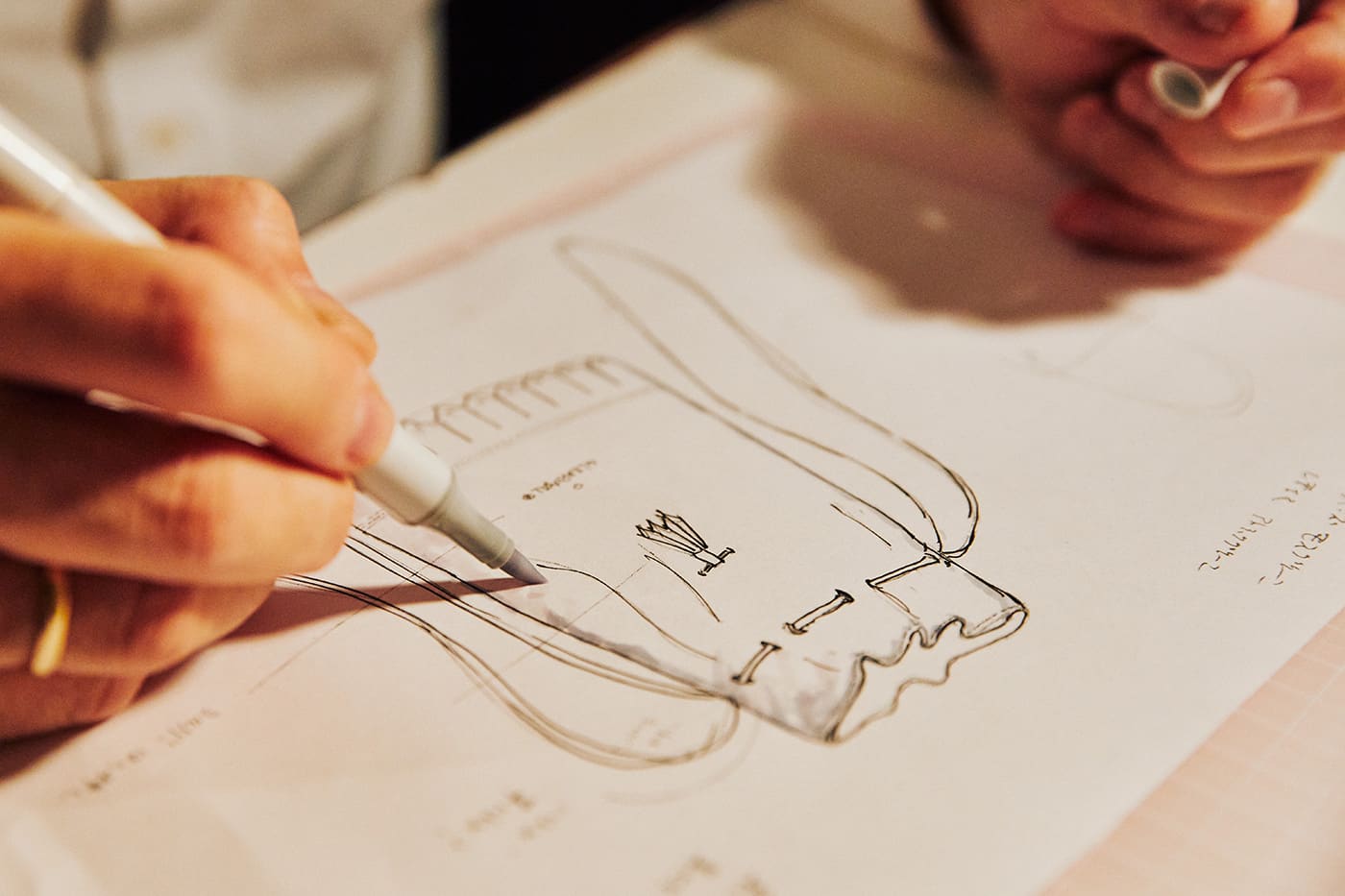 We finish this Collection in combination material of all white that adopted white-collar of Bridle Leather representing product of GLENROYAL while assuming onesutihowaito of H.KATSUKAWA main material. We are finished to silhouette which we made use of the softness of onesutihowaito in while adopting kilt and tassel which are used for Scottish folk costume in design, and expressing quality of Scotland that is hometown of GLENROYAL in detail. We express hommage of direction, the U.K. only by Katsukawa who continues making leather product over many divergences and the brand origin mainly on technique made with authentic shoes in U.K., Northampton.
Truthful snow-white piggusukinonesutihowaito with high rarity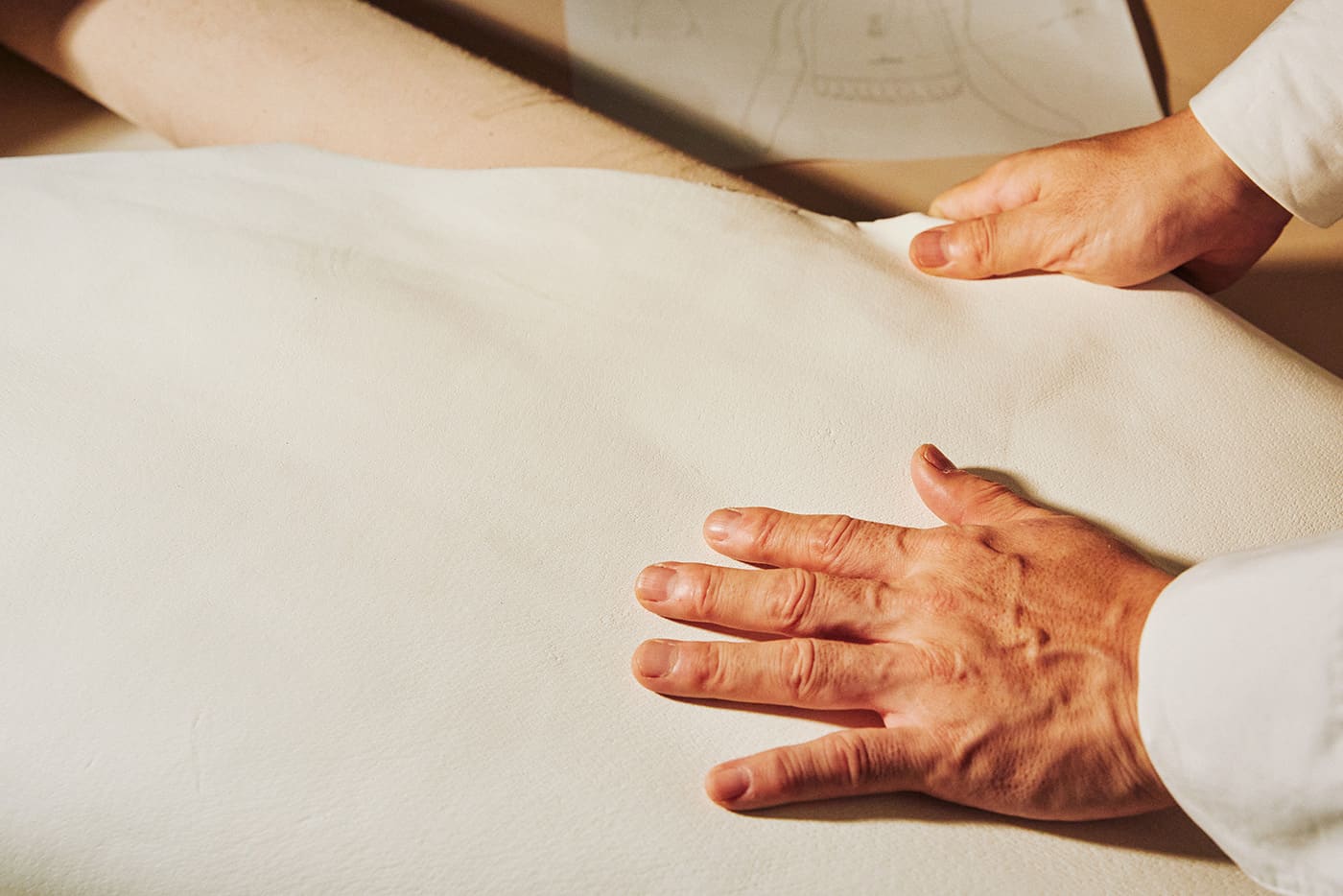 onesutihowaito is snow-white pigskin which we can make only in Tokyo that Katsukawa announced in 2019. Generally, if chrome tannage is gray with blue, Tannin tannage, leather is easy to become color taste such as ecru, and it is said that it is difficult at all to train leather to be pure white without doing the painting using color. White-collar who by hanging labor and time of normal 5-10 times, and performing process of removal of fat to remove fat of leather as raw material to give this pure white carefully, is positive judging from whose eyes. We express that as onesutihowaito. There has been no such pure white pigskin in the world; of rarity it is said that is high.
In addition, pigskin can supply leather as raw material in the country and is said to be the only leather to be able to make all processes into in Japan. What can make even tannaim of Sumida-ku, Tokyo that is more than ten now only in no company. It is conformity in Japanese eco-leather standard that leather that there is little influence on environment is recognized in sale, a series of life cycles until reuse from production more. Story to hide behind in the background of manufacturing becomes message and brings about further value.
In consideration for environment that did not use chrome to tan; tan, and use agent. Pig leather is softer than general cowhide, and skin familiarity is good, and one which is superior in wear resistance and the durability features.
White secret to deteriorate with time in consonance with Bridle Leather beautifully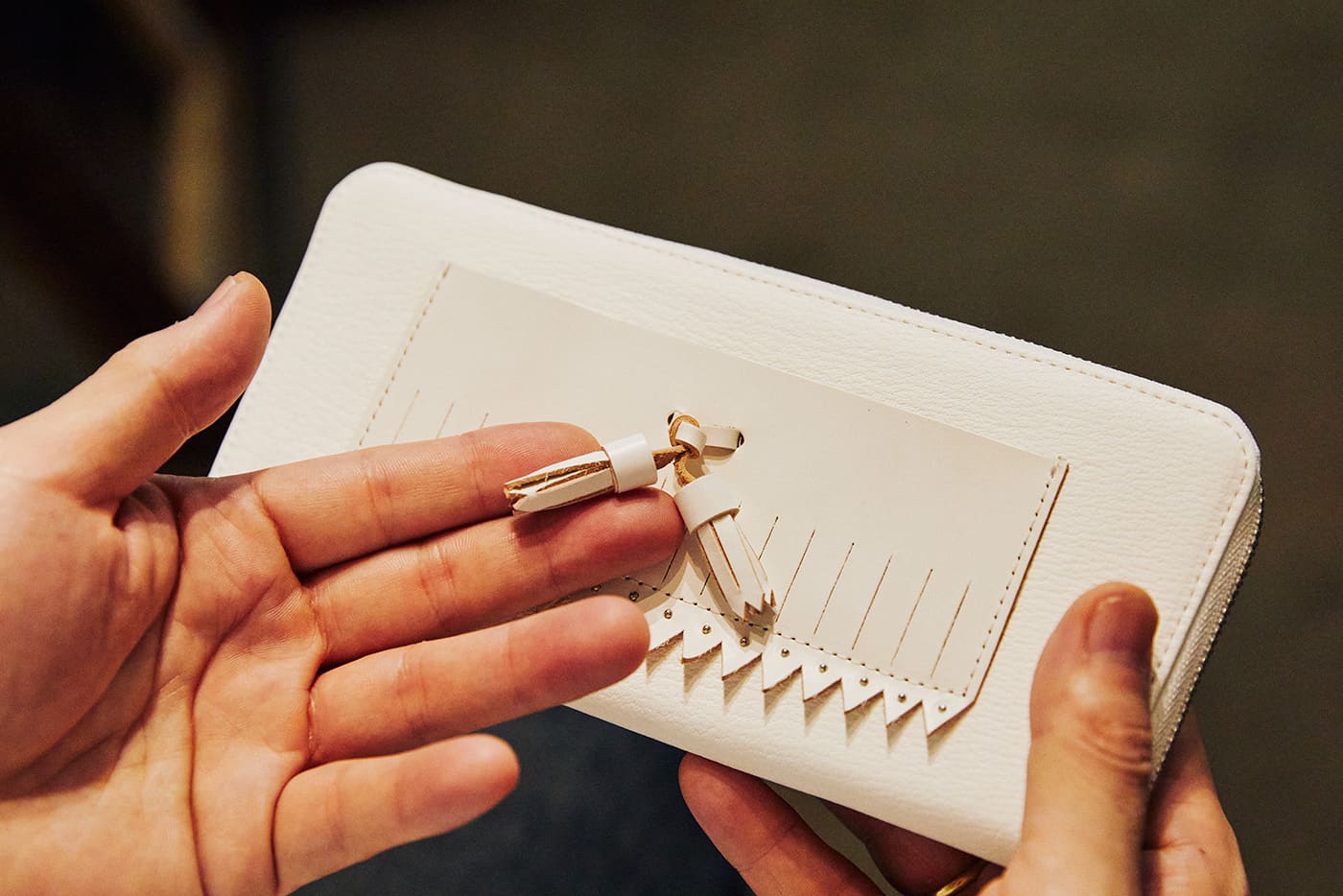 Characteristic of pigskin is softer than general cowhide, and skin familiarity is good, and one which is superior in wear resistance and the durability features. Fiber of leather comes loose when we embezzle and it becomes softer and can have expectation toward secular variation. Furthermore, it is process of removal of fat in the said article to be able to say that it is feelings of onesutihowaito. We suppress phenomenon called xanthosis that by removing fat enough, leather is yellowed when it is deteriorated with time. In onesutihowaito, you can enjoy secular variation only by leather while keeping hue like leather and soft texture more.
Zip-type breast wallet which was arranged in kilt tassel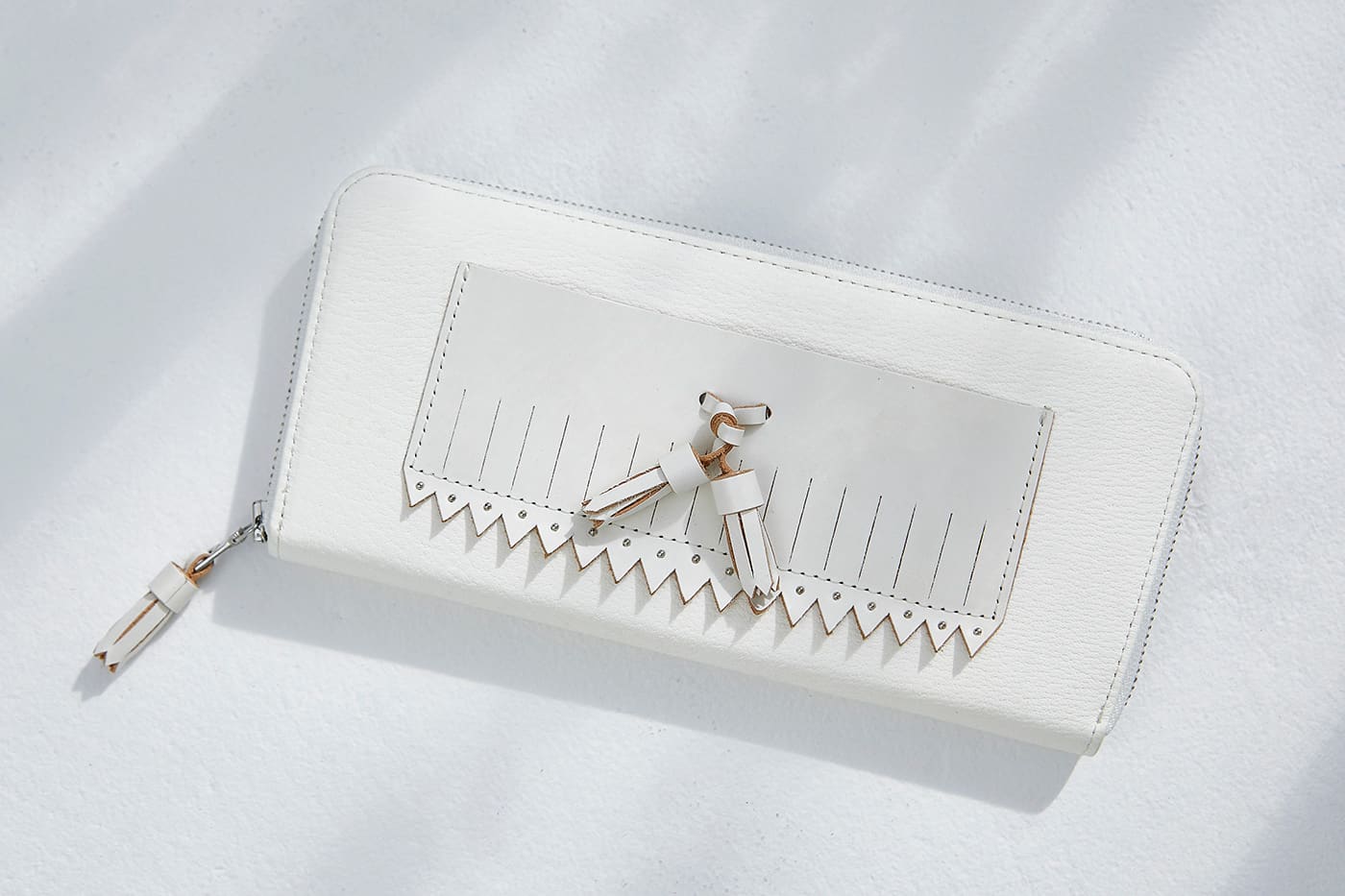 ZIP AROUND TRAPEZIUM PURSE 40,000 yen (+ tax)
Breast wallet of round zip type which front pocket that kilt and tassel with studs accentuated is characterized by. Design judging from the side adopts gentle trapezoid while being able to receive cards to front pocket part. We can open and close gusset by these specifications widely, and storing characteristics improve, too. Furthermore, we can store smartphone of general size among them. Handle of zip has handle of small leather tassel and improves convenience and takes in design that seems to be Scottish brand.
Shoulder bag which item showing frequent use fits into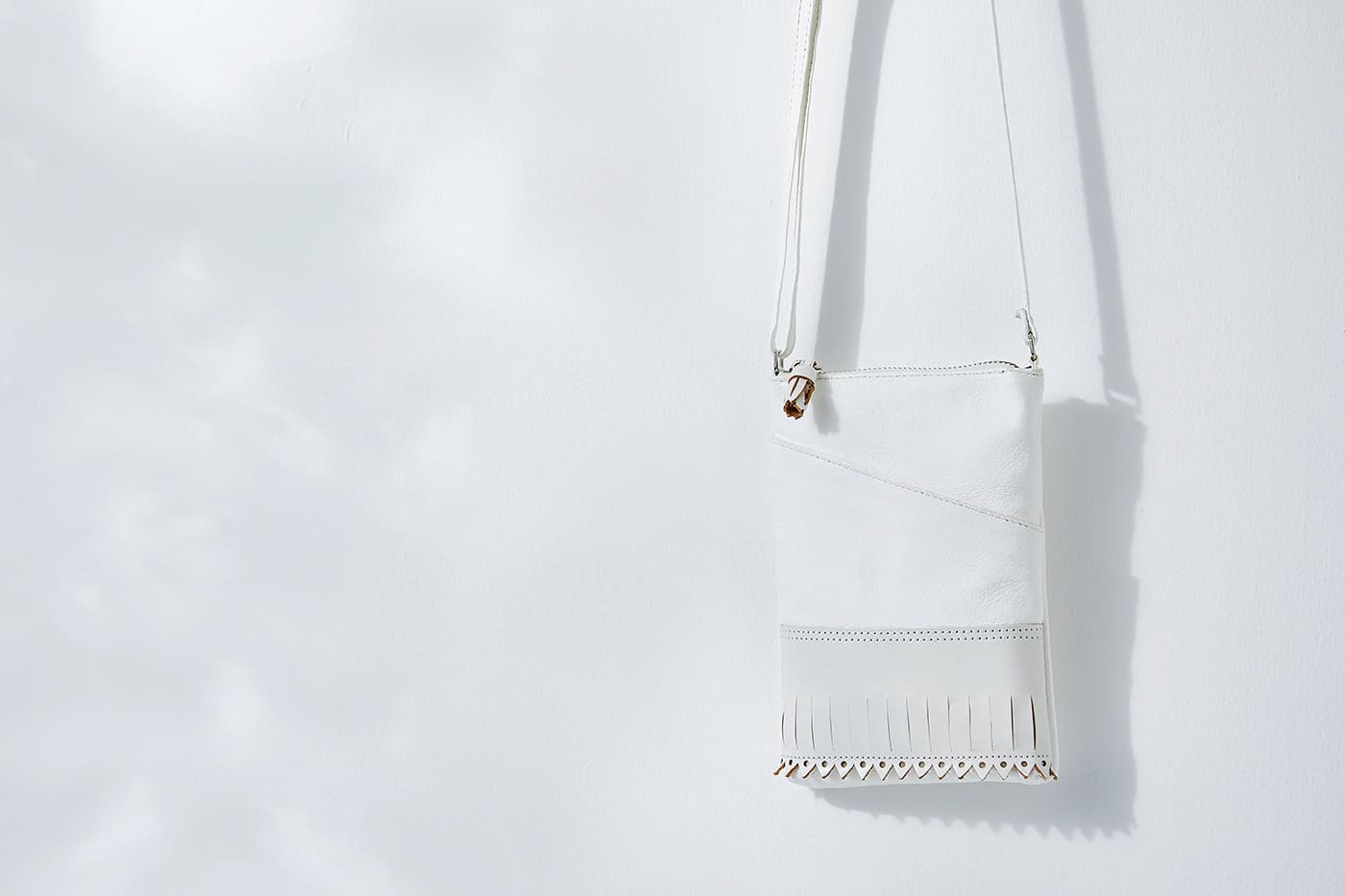 VERTICAL SHOULDER BAG 30,000 yen (+ tax)
Shoulder bag that opening and shutting is smooth with zip type with kilt in the lower part. A feeling of size that we can store front pocket which we cut diagonally for ten minutes including smartphone. It is helpful to put belonging showing frequent use. In addition, cloth of the inside adopts green that is brand KOLOR of GLENROYAL. It is item which it is easy to take in for various coordinates by orthodox design. Handle of zip has leather tassel to this.
Hanger-on type bag who can store minimum item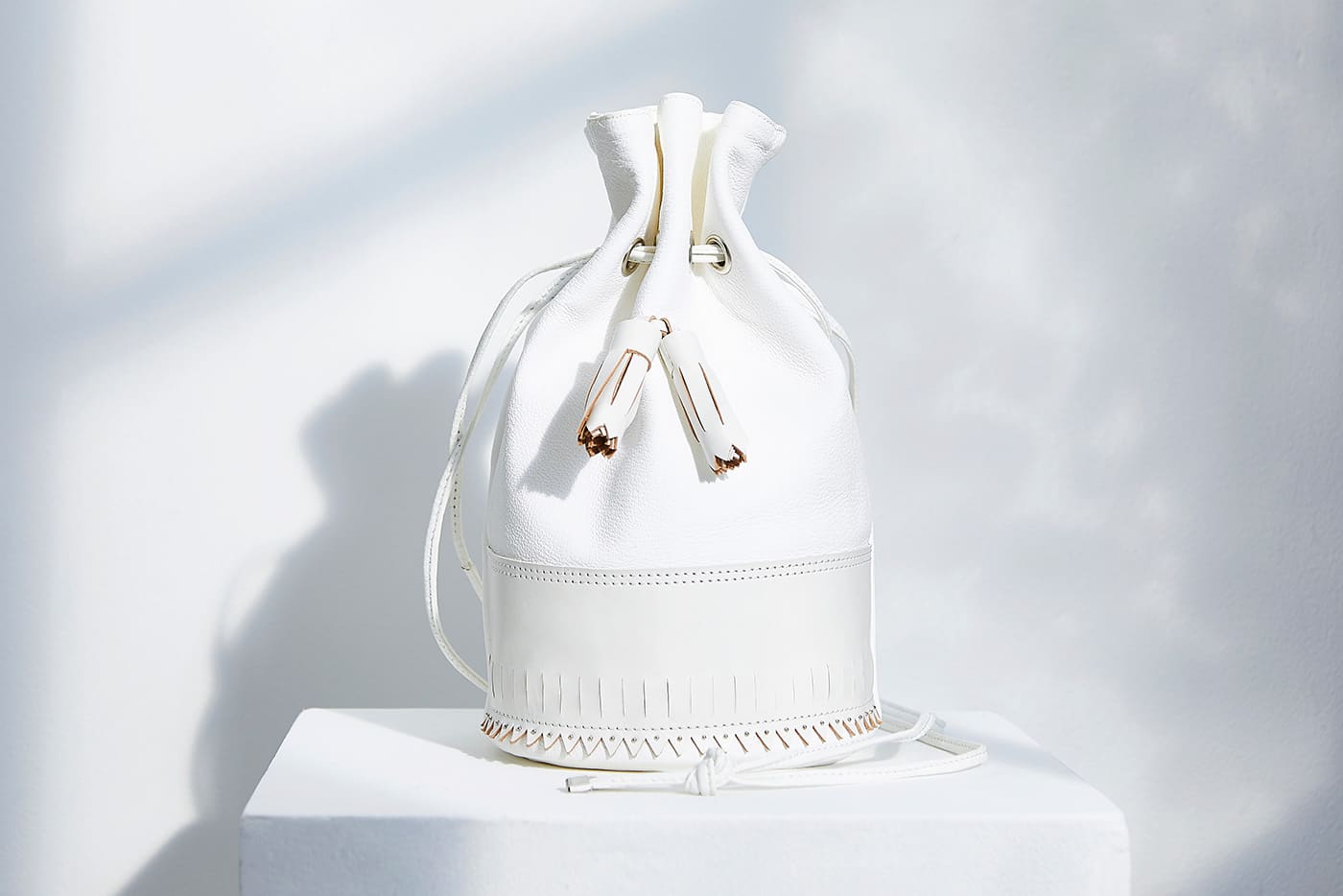 DRAW STRING BAG 47,000 yen (+ tax)
Leather drawstring bag bag that drawcord becomes shoulder strap. It becomes a feeling of size that smartphone and wallet, minimum item to usually carry including handkerchief are easy to receive. Tassel and kilt with studs are attached to this likewise. Design which is usable regardless of sex or age features both items.
Meaning of white with onesutihowaito without fabrication in true meaning. Naming that as great labor went through necessary process, expressed passion to manufacturing that leather became pure white. Snow-white leather to be able to enjoy aging to be able to never taste with coating leather is the biggest charm of honesty white.
Please see collaboration collection of craftsman in consonance with Bridle Leather by all means.
BRITISH MADE / Drake's
Floor: 5F
2020.04.01 improves